Recurrent accidents are inevitable if people take a nonchalant approach to health and safety procedures in your workplace. In 2021/22, slips, trips, and falls were the most common accidents, accounting for 30% of all non-fatal incidents. HSE reported that, in one year alone, these accidents cost employers a staggering £500 million. Economic burden aside, the welfare of your employees is something that should always be at the forefront of your mind.
In other words, by not taking the appropriate steps to tackle, prevent, and reduce incidents, the more likely it is for your employees to come into harm's way and for your company to face litigation.
A quick side note: if you stay tuned to the end of the blog - and, why wouldn't you? – we have treated you to a free, expertly-curated guide, sharing our top EHS predictions for 2023 and beyond, as well as why we believe workplace accidents will continue to increase if employers don't act now…
Your legal responsibilities as an employer
As far as the Health and Safety Act goes, so long as it is reasonably practicable, it is an employer's duty to ensure the health, safety, and welfare of all employees in the workplace.
It is important that you are vigilant and take the appropriate corrective actions to avoid accidents and injuries. However, just because you put a wet floor sign out doesn't mean that it will be enough for you to avoid liability following an accident. If it is discovered that an adequate risk assessment hadn't been completed or if the accident was avoidable, you could still face litigation or your employee's seeking compensation, which can be costly.
There is a fine line as to where the responsibility lies following an accident, whether the onus is on the employee or the organisation. For that reason, being able to prove that you have completed an adequate risk assessment, put preventative measures into place, and that the employee has completed the relevant training, is vital if you are to avoid taking blame for an incident.
How can slips, trips, and falls in the workplace be avoided?
So, we've covered why it is so important for your business to conduct an adequate risk assessment. But what can you do to prevent incidents in the first place? It goes without saying that choosing the appropriate actions will vary and be dependent on your industry. However, that isn't to say there aren't a series of best practices that all businesses can follow.
Below we share our top suggestions that can be applied to any workplace, in any industry.
Keep walkways and corridors clear from obstacles
While it may seem obvious, all it takes is a momentary lapse of judgement to cause an accident. Without thinking twice, you might have attached your cable to a power outlet on the other side of the corridor, unknowingly creating a tripping hazard. Or perhaps the faulty floorboard in your workspace, that you have been meaning to get fixed, has created a dangerous, uneven surface for people to fall over.
Best Practice: Be vigilant and encourage reporting
Having eyes around your workspace to spot and report potential hazards can make all the difference. A comprehensive reporting system, such as Ideagen Q-Pulse, makes it easier to do just this, allowing employees to quickly generate a report and notify the relevant people.
Take notice of recurring incidents that need your immediate attention
What could be a minor accident one day could turn into a major one the next day. Just because someone 'got off lightly' after a slip, trip or fall, doesn't mean that will always be the case if the cause of the accident isn't dealt with.
Best Practice: Gather and analyse your trend data to learn from your incidents and near-misses
It's important to review your risk strategy regularly, not just if there's an accident. Similarly, you should be paying attention to your near misses to make sure they stay just that, a near miss. Gathering trend data whilst also learning from incidents in other organisations in your industry is vital to spot any recurring issues needing immediate attention.
Provide employees with exceptional training
In the UK, providing all the relevant information and training to ensure the health and safety of your employees is a legal requirement. With regards to slips, trips and falls, employees should be taught how to prevent such occurrences, as well as the appropriate course of action following an incident.
Best Practice: Invest in quality e-learning software for your employees to access anywhere, anytime
It is obvious that online learning has become the new normal, given that using a cost-effective, flexible e-learning platform has such a high return on investment (ROI). Ideagen WorkRite offers a range of courses, Slips, Trips and Falls being just one of many.
Invest in your employee's wellbeing by investing in health and safety
The most obvious reason to invest in health and safety is to protect your employees' welfare. If a staff member is injured, not only could they be subjected to a long recovery but, from an organisational perspective, their absence could equate to monetary losses, lengthy recruitment processes for temp-work and maybe even a reputational hit if it is discovered the accident could have been avoided.
Best Practices: Make surfaces anti-slip, use quality protective equipment, and invest in fall detection
It's tricky for us to suggest the 'best practices' for this one, as they will vary from industry to industry. But we do suggest, where your finances allow, that you take the time to upgrade your workplace. Work in a production plant where things get spilled? Invest in anti-slip surfaces. Are your employees constantly working at heights? Invest in fall detection. Whatever the risk, mitigate it.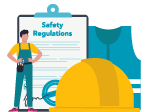 Optimising your health and safety procedures doesn't have to be overwhelming.
Sharing our insights from industry experts, our curated guide highlights key EHS trends for 2023 and why will likely see a huge rise in workplace incidents…
Download your free guide now