It will come as no surprise to hear that there has been a considerable rise in the usage of E-Learning tools over the last few years. Countless numbers of companies implemented virtual training in their organisation during the midst of the Coronavirus pandemic due to restrictions on social gatherings and limitations to travel. And now that we have all adapted to this foreign way of working, it has become evident that online learning is the new way forward; the e-learning industry is expected to grow by more than $70 billion in the next 5 years. If managed successfully, people and businesses all across the globe will be able to reap the rewards and see immediate return on investment (ROI).
What is ROI?

ROI is such a useful performance measure for businesses; calculated by dividing the return of the investment by the cost of the purchase, you'll be left with a percentage representing the efficiency of the expense. In the case of E-Learning, a successful solution should be able to demonstrate the gains are greater than the investment.
One of the most famous ROI methodologies used is Kirkpatrick's model of evaluation, depicted here:
Source: Research Gate
What is the value of E-Learning?
From an organisation's point of view, E-learning offers an array of benefits:
Cost effective
It is proved to be one of the most cost effective training solutions; Me Learning discovered that a single E-Learning course cost only £2.69 per user and was able to reach more of the workforce, in comparison to a face-to-face session, which totalled an eye-watering £49 per person.
Eliminate travel costs
Travel costs will be no more. A study conducted by KPMG found that up to 60% of total training costs are attributed solely to travel expenditure.
Employee wellbeing
It goes without saying that the health and safety of staff should be at the pinnacle of all organisations. Implementing appropriate training is vital to ensure the wellbeing of employees and avoiding monetary pay-outs. This will bring an immediate ROI; Redvecor found that each prevented injury saves $37,000 while avoided fatalities saves a whopping $1,390,000.
Track learning
E-learning makes it easier to track learners' progression and completion, saving a considerable amount of time and resource. After implementing Q-Pulse WorkRite into their organisation, Michael Byrne, Head of H&S at News Corp UK said 'it is much easier for us to get statistics' and 'streamline our processes whilst remaining compliant'; why waste time on trivial processes when and automated Learning Management System can do it for you.
We'll now look at the advantages of online training from a learner's perspective:
There is a great deal of convenience and flexibility with E-learning, as training is on-demand.
Not only is E-learning engaging, but it is also appropriate for many different styles of learning, combining visual, auditory, and solitary approaches. While retention rates for face-to-face learning sit at a very low 8-10%, E-learning increases retentiveness by 25-60%, according to statistics provided by Shift.
Users who complete training are guaranteed to be safer at work, with less chance of taking time off due to injury or illness.
There is a direct correlation between this immersive style of learning and increased competency within an organisation; less disruptive training will always equate to greater job performance and an improved ROI.
How can you maximise your ROI?
When it comes to making a business case to put forward to your organisation it is essential that you know the ways in which the value of e-learning and the ROI can be amplified.
Some of the best practices include:
Scoping the requirements and legal obligations of your business, so you can provide access to relevant and appropriate courses.
Ensuring that the learning outcomes are aligned with your business goals.
When choosing a solution, efficacy of the program must be considered. Content must be engaging and simple to use for people with different skill sets so that retention rates are higher.
Make sure that the features of the LMS platform make the initial cost worthwhile; if you require it to have self-assessment capabilities, there will be no benefit in choosing a system without this function.
So, for those who haven't yet jumped on the bandwagon and embraced E-Learning in their workplace, the real question is, what are you waiting for?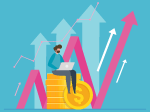 Our e-learning solution
Find out more about WorkRite, our health and safety e-learning software.
Find out more