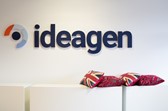 David Hornsby and Alan Carroll Awarded 'Chairman' and 'Non-Executive Director' of the Year respectively
Two Ideagen board members have been recognised for outstanding performances in their respective roles at an industry leading awards ceremony.
David Hornsby, Ideagen's Executive Chairman, and Alan Carroll, the company's Senior Non-Executive Director, were named 'Chairman of the Year' and 'Non-Executive Director of the Year' at the Money Week Mello Investor Awards.
The event, which is an annual investor-led event with categories voted for by the general, private investing public, highlights the year's best investment activity.
Mr. Hornsby (pictured below) was recognised for his work as Executive Chairman in a year that saw Ideagen secure and successfully integrate three acquisitions, strengthening the businesses' footprint in the US and enhancing its product portfolio.
Mr. Carroll, with over 25 years' experience in the information systems industry, was recognised for his role in successfully challenging and advising on the direction and performance of Ideagen in the interests of its shareholders.
Mr. Hornsby said: "I am delighted to receive this award particularly as it is voted for by the private investor community. It demonstrates that myself and the rest of the Board are making the correct decisions to secure a successful future for my colleagues and shareholders.
"This is quite an endorsement for Ideagen, and for myself also, and I am delighted to be recognised as Chairman of the Year."
Mr. Carroll, (pictured below) said: "Ideagen is an outstanding organisation to be a part of and I am absolutely delighted to be playing an important role in the company's success and growth.
"We have a proven, strategically focussed Board in place that is absolutely focussed on forging a successful future for Ideagen. It is a pleasure to play my part as Senior Non-Executive Director and I very much look forward to the years ahead."
The Mello Investor Awards was set-up by David Stredder, founder of Mello Events, to reflect the views of private investors and specifically private investors who are unable to participate and vote at many of the typical City-style ceremonies.
Ideagen's performance was highlighted as it prepares to record its 10th successive year of growth. In the last 12 months, the company has acquired Morgan Kai Group Ltd, InspectionXpert and Ireland's Scannell Solutions Ltd to strengthen both its product portfolio, customer base and global footprint.