Ideagen has been recognised with two top 50 spots in G2's 2023 Best Software Awards.
G2, the world's largest and most trusted software marketplace, ranks organisations based on a series of criteria including customer reviews.
UK-headquartered Ideagen has been listed as one of the Top 50 UK software companies with Ideagen Mail Manager solution also placed within the top 30 in the Office Products category.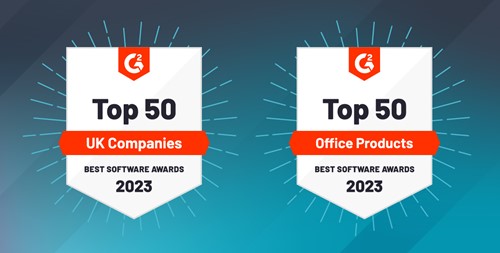 Ben Dorks, CEO, Ideagen, said: "We're delighted to receive this recognition. Our purpose is to support the safe hands and quiet voices that protect our food, medicines, air travel, finances and a host of other high compliance or regulated industries. So to know that a large part of our placing is as a result of customer reviews is incredibly rewarding."
G2 is visited by 80 million software buyers each year and its marketplace features more than 145,000 products and services, so competition for top 50 places is fierce. Its annual Best Software Awards rank the world's best software companies and products based on authentic, timely reviews from users.
"While G2 publishes the Best Software Awards each year, they're really awards from customers," said Sara Rossio, Chief Product Officer at G2. "Representing a vote of confidence from real software users, these awards also spotlight those that have risen to the top among thousands of companies.
"Congratulations to all those named, as buyers will continue to lean on these awards as a trusted source to inform their software decisions in the year ahead."
Mail Manager's customers rank the solution highly with an array of five star and 4.5-star scores on G2's website:
"Brilliant software. It's a game-changer… emails are saved and stored effortlessly. It has made our company so much more organised. Have never experienced an email storage software so easy and efficient to use."
"Mail Manager is incredible for our needs… allows us to easily file and archive project-related emails, attachments, and other notes related to individual projects."
"…simple to use and provides options for quickly filing emails. It even provides suggested locations. The speed and reliability of the search function ensures that emails can be located quickly."
"Mail Manager has transformed our company's ability to retain and search across employee emails."
The top 100 companies are ranked based on a combination of satisfaction and market presence scores for each vendor, and the top 100 products are ranked based on reviews across all categories they are a part of. More than 80 million people annually — including employees at all Fortune 500 companies — use G2 to make smarter software decisions based on authentic peer reviews.