Ideagen's InspectionXpert named among best places to work in North Carolina's Triangle region
Thursday, August 1, 2019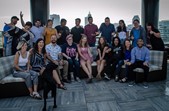 Ideagen's InspectionXpert has been named among the best organisations to work for in a report compiled by a leading business publication.
The Triangle Business Journal, based in Raleigh, North Carolina, unveiled its top 50 employers in the Triangle region following a commissioned survey by Quantum Workplace.
Each company had to meet a threshold in employee participation – a percentage that varied based upon company size – to be eligible.
The team at InspectionXpert (pictured below) – a company which Ideagen acquired in September last year – was named among the winners in the final '2019 Best Places to Work' list.
Brandon Chaney, Chief Operating Officer at InspectionXpert, said: "It is an amazing honour for the InspectionXpert team to be recognised as one of the best places to work in the Triangle.
"This team has worked hard to build an amazing culture that focuses on supporting each other, solving tough problems and advocating for our customers.
"For me personally, it is such a pleasure to work with such a talented, creative, caring group of individuals who are customer fanatics, and I look forward to coming into the office every single day."
Jason Christie, Triangle Business Journal's publisher, said of the 'Best Places to Work' list: "Employees are the lifeblood of any company. These 50 companies have demonstrated belief that happy employees produce successful and thriving business."
InspectionXpert's software enables organisations in the precision manufacturing industry and associated supply chains to simplify inspection planning, execution and reporting as well as general quality through digitalisation of paper-based processes.
The company was acquired by Ideagen in September last year for $7million – Ideagen's second acquisition in the US.