Work stress is often tied to value: the busier and more stressed you are, the more important and valuable you seem. But in reality, stress is one of the greatest public health challenges of our time. Around the UK, millions of people suffer with high levels of stress, but it is often overlooked in comparison to physical health concerns. Stress is a significant contributing factor for mental health problems such as depression and anxiety and is damaging to physical health, causing problems such as insomnia, heart disease and digestive problems. So, it is concerning that rates are increasing, not decreasing.
A survey of 2,000 adults found that in January 2021:
65% of people felt more stressed since the restrictions began
53% felt more anxious than usual
43% felt more depressed than usual
The rate of work stress, depression and anxiety has increased in recent years, and the pandemic has presented new challenges that have put a huge strain on people's mental health and wellbeing. A 2020 study by ORACLE and Workplace Intelligence found that out of 12,000 people:
78% believe the pandemic has negatively affected their health
76% say their company should be doing more to protect the mental health of their workforce.
While stress at work is common, finding a low-stress job may be difficult – if not impossible. So, a more effective approach is to adopt coping strategies to manage and reduce stress within your role. We all have a responsibility to understand the causes of stress and learn how we can reduce it for ourselves and those around us.
Some common causes of work stress include:
Heavy workload
Interpersonal conflict
Physical discomfort
Long working hours
Job insecurity
Lack of autonomy
Boredom
Tight deadlines
The main causes of stress at work are related to workplace conditions that managers could do something about. But to do this, managers need to feel empowered and capable of spotting the signs, as well as knowing how to act quickly.
Signs of stress at work
Recognising the signs of stress at work will allow organisations to take steps to prevent, reduce and manage stress in the workplace.
This will vary from individual to individual, but there are several common emotional, behavioural or physical changes (or a combination of all) at work that can indicate a potential problem.
At an individual level, stress can manifest in the following forms:
Emotional

Behavioural

Physical

Feeling irritable

Becoming aggressive

Anxious or nervoua

Lack of enjoyment

Impatience

Unable to concentrate

Struggling with decisions

Snapping at people

Avoiding certain situations

Constantly worrying

Loss of interest in work

Social withdrawal

Shallow breathing

Muscle tension

Grinding your teeth

Headaches

Tired all the time

Blurred eyesight or sore eyes
Source: https://www.stress.org.uk/wp-content/uploads/2021/03/Signs-of-stress-SMS.pdf
It is important to distinguish between 'bad days' - which we all have – and ongoing stress symptoms. Exhibiting these negative changes in behaviour for a week or longer would be more likely to warrant cause for concern.
There are also signs to look for at an organisation-wide level. This may look like:
A work culture that promotes long working hours
High absenteeism and sickness
Low productivity
High staff turnover
Employees not taking their full holiday entitlement
With 8 in 10 workers saying they are stressed by at least one thing at work, it is up to business leaders to facilitate a cultural shift and tackle work stress head on.
Simple steps to combat stress in the workplace
Tackling workplace stress does not need to absorb lots of expense and resource. The simplest strategies are likely to be the most effective if practiced regularly.
Some examples that individuals can practice to help them in stressful situations include:
Relaxation strategies: Simple breathing exercises can be an effective way to combat stress, and can be done anywhere, at any time.
Reappraising negative thoughts: Ruminating on negative thoughts can often become a vicious cycle, leading people to automatically interpret situations through a negative lens or assume the worst-case scenario. Regularly practicing the process of reframing these ideas and distinguishing them as thoughts rather than facts can help people manage and reduce negative responses to stressors.
Problem-solving: An active coping strategy that involves teaching people to approach a challenge through specific steps. For example, breaking problems down into a step-by-step process: define the problem, brainstorm potential solutions, develop a plan and test the chosen solution.
Mindfulness: Training the mind to focus on the present moment helps to minimise worrying about the future or ruminating on the past.
In addition to these strategies, it is useful to talk openly about stress and its effects in the workplace. Talking freely about stress with friends, family and colleagues helps to reduce the stigma that is often associated with stress.

Making sure colleagues and employees take care of themselves by finding time to relax or do activities that they enjoy. Taking the time to exercise, eat well and get enough sleep are also important factors in the day-to-day management of stress.

There are many ways employees can carve out time in the workday for self-care. Workers should be encouraged to:
Go for a walk at lunch
Take one task at a time to avoid multitasking
Avoid conflict
Stay organised
Get clarity on requirements for tasks to avoid burning out
Stress management training for employees
Stress management training can create a positive work culture and environment, leading to lower absenteeism, reduced employee turnover, improved morale and build happier, more resilient teams.
The first step to get the ball rolling with stress management training is to assess the baseline level, which can be done by conducting anonymous surveys. The Health and Safety Executive (HSE) recommend "using a survey as one (but not the only) useful source of information on whether work-related stress appears to be a potential problem for your workforce and, if so, who is likely to be affected and how". HSE offer a survey tool that asks employees about potential causes of work-related stress. It is also possible to create your own tailored version, ensuring that all relevant areas that are potential causes of stress for your workplace are covered.
Once the prevalence and level of stress in the workplace is established, it is easier to determine the steps required to tackle the problem.
The stress management strategies outlined in this blog are a good starting point; they are useful to help people build a toolkit of skills. However, they require clear communication in the rollout to organisations so should be supported with full stress management training to equip employees with the skills and knowledge to put the strategies into practice.
Ideagen's online training solution, Q-Pulse WorkRite, offers a comprehensive course to help employees manage work stress. Find out more about our Workplace Wellbeing Training Course.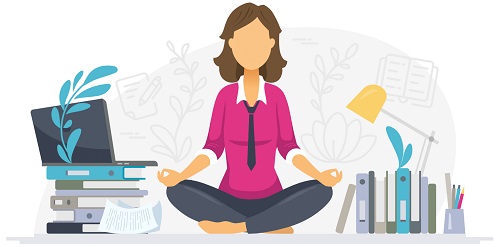 Workplace Wellbeing Training
Manage stress in the workplace and promote employee wellbeing.
Request free demo