Celebrating Internal Audit Awareness Month
12 May 2022
More often than not, internal auditors beaver away in the background, leaving many people in the dark about the valuable role they play in helping businesses to reach their goals. This Internal Audit Awareness Month, we want to shine a light on the internal audit profession.
What do internal auditors do? What do they really think about their jobs? And how can you celebrate their work?
This blog reveals all.
First, what is International Internal Audit Awareness Month?
Started by The Institute of Internal Auditors (IIA) around the same time that 'the Macarena' became a movement, International Internal Audit Awareness Month is celebrated every year in May to help promote the profession worldwide. You may also have heard it called IIA Awareness Month.
So why is the month needed? Many job roles, such as doctors and teachers, are universally understood. In comparison, internal audit is shrouded in mystery. Hence, Internal Audit Awareness Month aims to:
Dispel misperceptions of the profession
Strengthen its reputation
Boost the business community's knowledge of this critical function
So, to set the record straight…
What does internal audit do?
In a nutshell, internal audit professionals provide assurance to stakeholders as the 'third line of defence' in three key areas: organisational governance, internal control and effective risk management.
They effectively act as an impartial watchdog to help correct issues quickly, protect brand reputation and prevent unnecessary waste of time and money. This supports organisational growth and, ultimately, puts smiles on faces.
But don't confuse internal auditors with external auditors. Whilst the latter camp will mainly focus on financial records, the scope of internal audit is much broader. Internal auditors can often be found weighing in on meaty issues such as fraud detection, health and safety, supplier relationships, employee wellbeing, cybersecurity and much more.
Now we know what internal auditors do on a daily basis, let's hear from some internal auditors themselves.
Meet the auditors
Peter Adams, Consultant Team Leader
What are your memories of working as an internal auditor?
"I think the auditing profession has come a long way since I first started as an auditor in 1984. In those days, auditors were seen negatively as either a policing type of role or an annoying person who took you away from the important day job.
Comments about audit included things like 'bayonetting the wounded' (criticising people without really helping), 'give me a watch and I'll tell you the time' (telling people what they already know and adding no value at all), and 'are you here again!' (I think you get the idea)."
Is that still a commonly held attitude?
"Thankfully, the world of audit has changed greatly and as businesses appreciate the importance of risk management, they similarly appreciate the importance of auditors providing assurance, and internal audit is now seen as much more of a partnership and a trusted advisor.
Auditing is a very skilled profession and isn't always easy as it needs common sense, tenacity, and the courage to stand by your opinions. However, it plays an incredibly important role in helping businesses to achieve their objectives, manage risks, and ultimately make better decisions - so I'm definitely an advocate for the auditing profession."
Stephanie Jones, Product Manager
How do you feel about your time as an internal auditor?
"I am immensely proud of the 12 years I spent as an internal audit professional prior to joining Ideagen, as well as the 12 years (and counting!) I have spent volunteering for the Institute of Internal Auditors through my local chapter and at the North America committee level."
What's your favourite thing about internal auditing?
"I love everything about this profession! It has allowed me to travel the world performing audits of greeting cards, mutual funds, and salt mines. It has also provided me with countless opportunities to be a leader and a trusted advisor to the companies I worked for."
Kaylie Barnhart, Pre-Sales Manager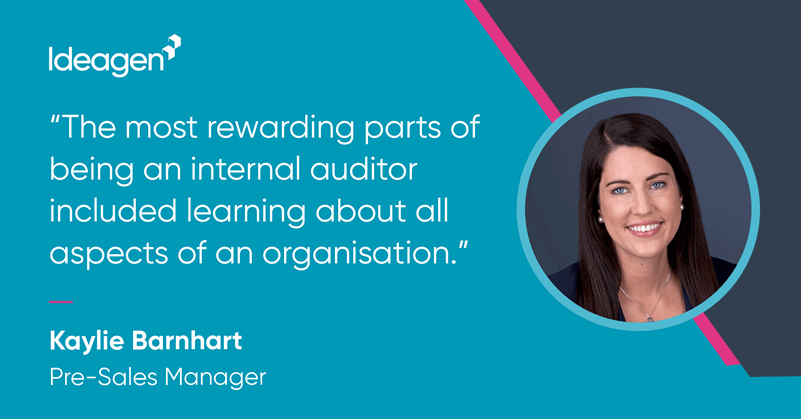 What benefits are there to a career in internal audit?
"There are many benefits to a career in internal audit, as the role impacts organisations at multiple important levels. During my 10-year career as an internal auditor, I worked in a wide variety of industries including transportation, banking, and higher education.
For me, some of the most rewarding parts of being an internal auditor included having the ability to learn about all aspects of an organisation and the industry, working with individuals with varying backgrounds and at all levels of the organisation, identifying issues and process improvements that result in real change, and performing investigations to eliminate fraudulent practices."
How to celebrate Internal Audit Awareness Month 2022
If the words of our internal auditors are anything to go by, there's no denying that internal audit is crucial to any organisation wanting to achieve great things. So how can you celebrate such a valuable profession?
We've compiled a few Internal Audit Awareness Month ideas to help you get involved in the spirit of the month.
1. Dispel myths about internal audit
Internal audit is the 'policing type', only there to pick at faults? That's just one common misconception surrounding the profession. IIA Awareness Month provides a great opportunity to do some well-needed myth-busting. Make people think differently about your role!
2. Host a workplace event
To really get involved in Internal Audit Awareness Month, why not put on an event within your workplace? You could provide a space for open discussion, and even invite special guests to raise awareness around important topics. This is a fantastic way to inform your colleagues about internal auditing and help stakeholders appreciate the value you provide.
3. Read more about internal audit
There are a range of resources that you can read, and share with colleagues and stakeholders, about internal audit. Discover the value of internal audit, how technology can support internal audit, and the top qualities internal auditors should have.
4. Support your internal audit function
What challenges do internal auditors face? Is there anything that would make their working life easier? How can your colleagues be empowered to do their job efficiently and effectively? Internal audit benefits everyone, so it's worth thinking about how you can invest in the department's success.
5. Spread the word
International Internal Audit Awareness Month is all about raising awareness, and what better way to do this than by using the powers of social media? Promote your internal audit function on LinkedIn, Twitter or Facebook, and remember to use the IIA's hashtag #IIAMAY. If you want to go a step further, you could reach out to traditional news media to inform them about hot topics within the industry. For example, how internal audit is crucial to ESG and sustainability.
Whether you simply read more about internal audit or host an event within your workplace, we hope you now feel inspired to get involved in Internal Audit Awareness Month. With any luck, and by embracing the month to its fullest, internal auditors will no longer be shadowy, suspicious figures in the background. Instead, their value will be clear for all to see.
Learn more about the value of internal audit
Promoting the value of internal auditors is at the heart of Internal Audit Awareness Month. Find out more about how the function adds value in our blog.
Read now
Related blog posts
Here are some more blog posts that you might be interested in.
09 May 2022
Internal auditors are a crucial pillar of good governance, risk management and controls in any organisation. If you're thinking about hiring now or in the future, what qualities of an auditor should you keep an eye out for to ensure you select the...
Continue reading
10 May 2022
With risks to all organisations continuously on the rise, it's no wonder that our reliance on internal audit technology has skyrocketed.
In recent years, auditors across the globe have been forced to Continue reading