With risks to all organisations continuously on the rise, it's no wonder that our reliance on internal audit technology has skyrocketed.
In recent years, auditors across the globe have been forced to think in a much more agile and broad way about audit scope; to not only prioritise their operational resilience but also consider a wider range of risk scenarios and planned responses.
The need to embrace the latest auditing technology to help audit teams manage adverse events has never been greater. With that, there are numerous reasons to place automation at the centre of your audit strategy.
We go back to basics to tell you why.
What is auditing software?
We all know how critical internal audits are for any organisation – and how complex they can be. Put simply, internal audit software helps to automate the key steps of the audit lifecycle, allowing businesses to conduct audits in a centralised, comprehensive and secure framework.
The best audit management solutions on the market can support all types of audits in your organisation, from regulatory and financial, to IT, operational and many more. Through automation, day to day tasks such as managing workpapers, audit planning, reporting, and tracking findings through remediation become a breeze.
Internal audit software is also a great tool to streamline productivity whilst guaranteeing the highest quality. Especially for businesses operating within industries that are subject to countless compliance obligations.
Why is it important and what are the main features?
Mounting pressures on audit professionals have meant that in addition to the core internal audit requirements, teams must now also be proactive with risk management whilst providing insights into changing regulations.
Being able to manage the audit process swiftly and efficiently through an intuitive audit solution vastly reduces the risk of non-compliance. It can also highlight any potential issues far quicker than traditional approaches to auditing. Plus, with the ability to embed intelligence into your processes, you can make continual improvements over time.
So, what are the principal features of internal audit software?
Project management functionality – Manage multiple audits in one place using workflows to capture objectives and scope, and keep track of key actions and incidents.
Workpapers management – Go paperless through a single system of record where you can display all goals, tests, criteria, samples, findings, evidence and more.
Risk and control management – Update and maintain a library of objects, risks, controls and tests, and create an unlimited number of risk registers.
Real-time reporting – Gain access to instant and comprehensive reports, with the ability to communicate high-impact data through graphs or charts.
Planning and scheduling tools – Risk-assess the audit universe with a set of defined and weighted criteria, whilst highlighting any resourcing issues.
What are the top benefits of internal audit software?
Aside from reducing the sheer admin burden (and the headaches) associated with paper-based internal audits, this specialised software boasts many benefits, including:
Streamlined processes – With automation at the heart of your internal audit function, technology can provide a framework around which you can build, maintain and improve your business, ensuring everyone is working cohesively towards the same objectives.
Enhanced audit strategy – Using software to look at the inner workings and finer details of your organisation, you can better identify key issues in your departments and procedures to eliminate wasteful practices.
Reduced costs – With a growing number of regulations to keep track of, internal audit software enables you to stay on top of business compliance and other potentially costly operational risks with ease.
Greater cybersecurity – Audit technology plays a major role in ensuring your organisation's security programme is scaling sufficiently with the rest of the business. It also helps to establish proper controls so internal audit can remain effective as the third line of defence against threats.
Time savings – An auditing solution can not only speed up the audit lifecycle through automated calculations and workflows, but it can also halve the time it takes to handle complex compliance tasks.
Fewer errors and duplications – Traditional paper-based auditing processes can leave more room for human error. However, with an audit management tool, automation enables tasks to be completed more efficiently, accurately and to the highest standard.
What are the key considerations when looking for a new audit management solution?
With numerous auditing software packages available on the market today, it can be hard to know what to look out for when sourcing a new solution. Here are just a few considerations as a starter for ten:
A scalable solution that is flexible enough to deal with your evolving needs
A software vendor partner that has first-hand industry knowledge and expertise
A solution that boasts a modern and intuitive user experience (UX) and user interface (UI)
The ability to visualise data with advanced analytics capabilities
A connected system that creates synergies between workflows and allows auditors, auditees and other stakeholders to communicate in real time


Want more advice on how to navigate today's world of internal audit technology? Download our latest buyer's guide to help you find a solution that matches your unique requirements.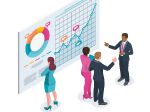 How to choose the best internal audit software
Looking for new internal audit technology to help support your goals? Discover the 7 essential questions to ask to narrow down your search.
Get your guide