Good corporate governance is the cornerstone of any business, designed to accelerate effective, innovative, and pragmatic management that can underpin the long-term success of a corporation.
A system by which companies are directed and controlled, effective corporate governance is the responsibility of the board of directors. With the oversight of the shareholders, the board must ensure an efficient governance structure is in place that is in line with the company's aims.
The basic principles of corporate governance centre around the board and their ability to develop, act and be held accountable. In order to do this, they must meet frequently, have a clear view of their own responsibilities, and retain an agile approach to risk management.
In addition, a process of transparent disclosure must be followed to provide governors, shareholders and the general public with truthful information regarding the business's financial and operational status.
Improving corporate governance can help companies to:
Regulate risk
Identify the company's goals and aims
Minimise wastages, corruption and mismanagement
Create a strong brand reputation
Ensure resilience
How can your company demonstrate good corporate governance?
Clarify the board's role
As stated above, the board has a significant role to play in the creation and development of the organisation's governance and strategic direction. The extent of the board's responsibilities will range from business to business, but each board must determine how their role best fits in with the company and clarify this with management, CEOs, and shareholders.
Increase diversity
Corporate boards suffer from a serious lack of diversity, which could in turn lead to less effective corporate governance. A diverse board can result in better, more balanced decision making, due to the wider selection of different skillsets, knowledge, and expertise on offer.
A more diversified selection of members can also build a better reputation for companies, communicating a stronger sense of corporate responsibility as a citizen that understands and represents its community.
Prioritise risk management
All businesses will encounter risks, and all businesses must take risks to make money. However, the board must assume responsibility for overseeing and monitoring these risks, including those related to financial crime, climate change, cyber-security and many more.
The board must establish an effective system that should examine and determine key risks to the company, analysing the exact nature and extent of each risk and the overall impact they will have on the business's strategic objectives in order to mitigate them and manage internal controls.
Monitor and review performance of the company
This is a vital function of the board to ensure a company's compliance. All corporate decisions made by the board should be in line with the strategic aims of the company along with the shareholders' and owners' expectations.
Setting goals, developing key performance indicators (KPIs), and reporting all measures can help to establish and determine the business's success. Boards should establish a consistent approach to tracking the performance of their company in order to proactively improve the board's overall success.
Routine internal audits
A consistent approach to performance tracking can be facilitated through regular internal audits. Investing in a routine internal audit programme helps to pinpoint risks, monitor performance, and evaluate the effectiveness of the board.
By identifying weaknesses and developing KPIs through internal audits, the board can work towards improving corporate governance and the company as a whole.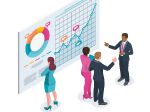 Benefits of Agile Audit
Delve deeper into good corporate governance through our benefits of Agile Audit white paper.
Download white paper