Many challenges are driving today's construction industry to adopt advancing technologies.
Construction companies have faced time constraints, safety concerns, and workforce issues in addition to other difficulties, which include legal issues, government regulations and environmental concerns. The industry is also highly competitive, and companies must strive to continuously improve their productivity to remain competitive.
Recently, a growing emphasis has been placed on social and environmental issues. Today, projects often involve stakeholders with special expertise in a specific technology located in different geographical locations and institutions.
So, what are the biggest problems facing the construction industry?
Some of the other common obstacles to construction collaboration include the following:
1. Challenges of sustainable construction
Adapting to change can be one of the most challenging things for people. There is no doubt about it. So, creating a more sustainable future comes with obstacles and challenges.
Building sustainably begins long before the contractors arrive on the job site. Every decision should be made in line with sustainable practices from beginning to end, from the design and construction stages to ongoing maintenance.
2. Transforming construction challenge
Over the past four years, a range of innovations have been piloted and tested under the Transforming Construction Challenge (TCC). Digital and data-driven processes, platform systems, manufacturing methods, robotic technology, and active energy solutions are just a few of the new approaches being explored. These will provide faster, cheaper, greener, more efficient, high-quality assets that add lifetime value and meet the current and future demands of clients and the market.
As part of the Construction Sector Deal, the Transforming Construction Challenge aims to accelerate the transition from traditional construction techniques to manufacturing and digital processes.
The challenge was designed with the following objectives in mind:
50% faster project delivery

33% reduction in overall costs

50% Reduced lifetime emissions

15% productivity increase
The biggest challenge is embracing digital technologies to provide assurance, efficiency and performance feedback.
3. Emerging technologies in the construction industry
There has been an increase in digital disruption in almost every industry in recent years. Yet construction has been one of the last to adapt despite being one of the fastest-growing industries in the world.
A key benefit of the technologies is that they can help solve these challenges within the construction industry: productivity, safety and training, labour shortages, and collaboration. These technologies have the potential to improve the lives of industry workers, but there's also the question of whether they pose a threat to their jobs in the future.
It was forecast that the value of the global construction industry would reach $12.7 trillion by the year 2022, up from $10.6 trillion in 2017. However, it must be noted that because of lack of digitisation in the industry in the last 20 years, productivity has only increased by 1%.
4. Technology adoption in the construction industry
Change is always challenging for people who've always done things a certain way. It's common for construction workers to become involved in the profession due to their enjoyment of working with their hands.
Additionally, they usually prefer to stick to traditional construction methods. Because of this, companies may have trouble introducing new technology, and in effect, technology adoption is hindered by worker resistance. A Construction Dive survey found that 61% of contractors cited this as a top obstacle.
5. Project governance
To coordinate and safeguard exchanges between various stakeholders in a project, governance mechanisms such as standardised work practices, monitoring, and reporting, are used. Project governance defines, documents, and communicates reproducible and trustworthy project practices to effectively control the project, articulate it, and achieve the objectives of the project.
However, control alone cannot coordinate work in complex inter-organisational networks like industrial engineering projects. Creating trust among multiple stakeholders is essential to achieving a set of tasks in a short amount of time.
How to tackle construction challenges
Project success comes from an effective collaboration between stakeholders. Early technology integration, and quality teamwork improve the delivery of construction projects with technical, organisational, or environmental complexity.
The question is whether the hesitation to adopt new collaborative technology is due to workers potentially being resistant in embracing innovative technology or, if it is a combination of factors including the process of finding the right solution?
It's essential you find the right solution that works not only for you but also for your clients.
Still trying to figure out where to begin? Start by using Ideagen Huddle's checklist for choosing the right solution.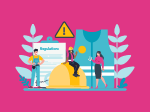 Your free checklist
Use Ideagen Huddle's checklist for choosing the right solution.
Learn more