An ICH Q10 pharmaceutical quality system is a powerful way to integrate ISO and GMP quality benchmarks into the entire lifecycle of your pharmaceutical products. If your operation aims to consistently deliver high-quality pharmaceuticals that satisfy your customers and regulators, building an effective and resilient ICH Q10 system is a crucial step.
Ideagen's integrated quality management software system, Q-Pulse Cloud, offers a suite of interacting functionality to help you build and embed ICH Q10 compliance. Here's how:
Effective ICH Q10 operation
An effective QMS is vital in the pharmaceutical world.
ICH Q10 was developed by the International Council of Harmonisation to provide an integrated pharmaceutical quality management model, going beyond the benchmarks of Good Manufacturing Practice (GMP) to lay out specific management responsibilities and quality system ingredients in the style of an ISO 9000 framework.
An effective ICH Q10 system gives your pharmaceutical business three operational abilities: to realise your products and bring them to market, to control the end-to-end lifecycle of your products, and to drive continuous pharmaceutical quality improvement.
As you can see from the diagram above, ICH Q10 covers 4 key areas of the product lifecycle:
The processes and procedures governing how products are ideated and developed, including exploratory and clinical development studies
The transfer of product and process knowledge between development and manufacturing, and within or between your operational sites
Controlling and continually improving the product realisation and distribution stage
Managing the end of the pharmaceutical product lifecycle in a controlled, consistent way and it mandates four core 'pillars' or quality system elements to support these areas:
Process performance and product quality monitoring
Corrective action (CAPA) management
Change management
Management review
The role of an electronic quality management system
Q-Pulse Cloud is designed to provide regulated businesses with the holistic, integrated digital toolkit you need to ease compliance burden and embed natural, automatic day-to-day quality improvement.
Let's take a look at how each pillar of your ICH Q10 system can be strengthened, streamlined and automated with our Q-Pulse Cloud quality management software.
Process performance and product quality monitoring
This element of your ICH Q10 system demands two core ingredients:
Controlled risk investigation and management
Timely and appropriate quality responses to product quality feedback, such as parameter and attribute measurements, complaints, non-conformances, deviations, audit findings and so on
Apply the audit management module to dig into and interrogate the quality of your product and processes.
Build flexible and completely paperless digital audits to uncover gaps, risks, weaknesses and improvement opportunities, pushing your findings into reports instantly at the touch of a button. Schedule regular audits of your various departmental and operational areas, applying customised question banks and checklists to get the information you need to see.
Then push your uncovered risks, opportunities, complaints and NCRs into Q-Pulse's issue management module for immediate contextual response.
Build bespoke workflows to handle any kind of business action, from squashing a non-conformance with a CAPA plan to responding to adverse events, systemic issues and customer feedback. Funnel actions to the right personnel at the right time for a consistent, snappy, targeted and fully audit-trailed response that maintains and improves the quality of your processes and final product.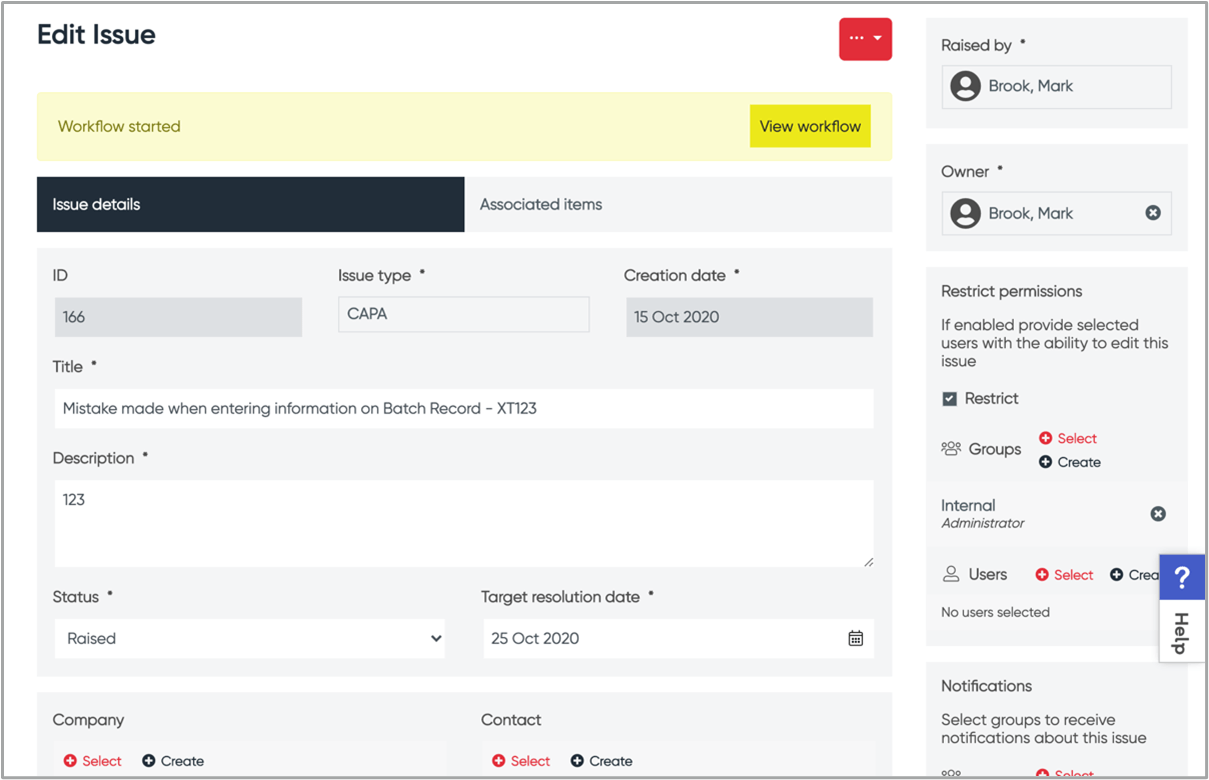 Corrective and preventive action (CAPA) management
Closely overlapping with your ability to monitor and maintain your process integrity, the second pillar of your ICH Q10 system is your ability to determine the root cause of adverse events and to take structured and appropriate CAPA steps which continually improve product quality.
Q-Pulse's issue management module is designed to allow users to build closed-loop CAPA pathways.
Custom issue forms encourage all members of staff to be the eyes and ears of the quality department, raising and reporting issues quickly and easily and pushing them directly into the Q-Pulse Cloud system for remediation.
Stepped workflows guide designated staff through the stages of each CAPA process, ensuring due diligence while minimising human error or negligence. Best of all, every CAPA managed in Q-Pulse Cloud is fully traceable, allowing you to prove to your auditors that the correct process was followed and appropriate action was taken.
Change management
Effective ICH Q10 change management means proposed changes are properly evaluated, executed and documented, minimising adverse risk consequences while driving continuous improvement and maintaining compliance.
Q-Pulse Law is the dedicated legislative module within the Q-Pulse suite.
A living, breathing library of international legislative requirements is constantly maintained and updated by Ideagen's expert team. Q-Pulse Law gives you a simple, digestible contextual checklist of the legal updates and amendments which might affect your pharmaceutical compliance before and after entering the market.
Using the targeted intelligence and support of Q-Pulse Law, apply the completely configurable action pathways of the issue management module to drive change visibly and consistently. Align departments and personnel to ensure your business moves and changes as one, and use Q-Pulse's reporting functionality to gauge and understand the real day-to-day effects of the changes you make.
Then use the document management module to record, store and categorise any associated business records.
Use built-in version control to update policies, processes and procedures, confident that superseded and outdated documents are withdrawn from circulation. A single central business repository ensures all employees are connected and aware of changes as and when they happen – including acknowledging SOP updates or understanding new processes.
Management review of process performance and product quality
Your senior management should provide the coordination, oversight and support to assure the end-to-end lifecycle quality of your products and processes. Q-Pulse Cloud gives your business a centralised single source of truth. This means it's easy for management to view the entire quality landscape of your pharmaceutical operation at a glance and drive your business in a unified direction.
Store quality manuals, statements, processes and policies in the document module to demonstrate management's commitment to quality, and set frequent review intervals to keep them relevant and up-to-date. Document your management review meetings, storing records in the document module and pushing agreed actions into the issues module for immediate follow-up.
Using the reporting functionality of the audit module provides instant summary reports of audits and inspections to management, highlighting risks and improvement opportunities for discussion and response.
As Q-Pulse Cloud administrator users, it's easy for management to allocate and manage system resources – assigning key personnel for workflow steps, setting bespoke viewing permissions to share key documents with specific areas of the business, and building and sharing reports to drive smart data-driven decision-making.
Any piece of data within the Q-Pulse system can be interrogated and reviewed by management, including:
Outstanding CAPA process steps
Who has read and acknowledged an updated procedure, and who hasn't
The number of findings per audit, and per business area
With complete knowledge and visibility of a central real-time QMS, it's simple for management to plan, cultivate and continually measure a top-down quality-centric approach that satisfies your customers and regulators.
Applying Q-Pulse Cloud
Looking to build an ICH Q10 pharmaceutical quality system that's centralised, digitised and data-driven? Q-Pulse Cloud is a tool for all layers of your business, from lab staff to C-suite, to coordinate and continually improve your pharmaceutical quality.
To explore in greater detail how to apply the various modules of Q-Pulse Cloud to your pharmaceutical operation, read more here.