"The intended outcome is to prevent death, work-related injury and ill health to workers, to improve and provide a safe and healthy workplace for its workers and other persons under its control. An organization's activities can pose a risk of death, work-related injury and ill health, consequently it is critically important for the organization to eliminate or minimize OH&S risks by taking effective preventive measures."
ISO 45001 2016, ISO 2016
ISO 45001 has transformed the protection of workers since its introduction in 2018 and helped organizations realize benefits such as:
Improved operational efficiencies
A culture of reporting, learning and sharing
A stronger brand and improved reputation
A substantial reduction in problems, undesirable events and failures of every type
Increased business resilience and general preparedness (absorptive capacity) for unforeseeable events in this volatile, uncertain, complex and ambiguous world we find ourselves in


In this blog, we share how top employers have used our health and safety management solution, Ideagen EHS, to:
Implement and control risk-based policies and procedures
Improve safety performance by creating a culture of safety awareness and incident reporting
Apply highly visual risk assessments
Manage safety related training and competence
Support colleagues and provide feedback on unsafe acts and circumstances while rewarding positive behaviors
Evaluate performance and manage audit programs and inspections
Streamline, automate and continuously improve safety operations
About ISO 45001
ISO 45001 reflects ISO's new high level structure (HLS) which covers ten standard clauses, from scoping to driving continuous improvement. It is designed to integrate with other management systems and the standardized approach makes it easier to adopt and implement and for senior management to get on board. If you have already implemented ISO 9001 or 14001, then it will be relatively straightforward to implement 45001.
The Plan-Do-Check-Act Logic of ISO 45001
Like ISO 9001:2015, ISO 45001 supports the Plan-Do-Check-Act (PDCA) model of continuous improvement.  PDCA is a virtuous cycle associated with the basics of quality management. The HLS high level structure (HLS) of ISO 45001, like that of 9001 and 14001, is aimed at delivering long-term, sustained improvement rather than quick fixes. The overall goal of ISO 45001 is continuous improvement of the operational health and safety (OH&S) Management System. The diagram below shows how the improvement cycle works within the OH&S management system with the standard HLS clauses noted in brackets.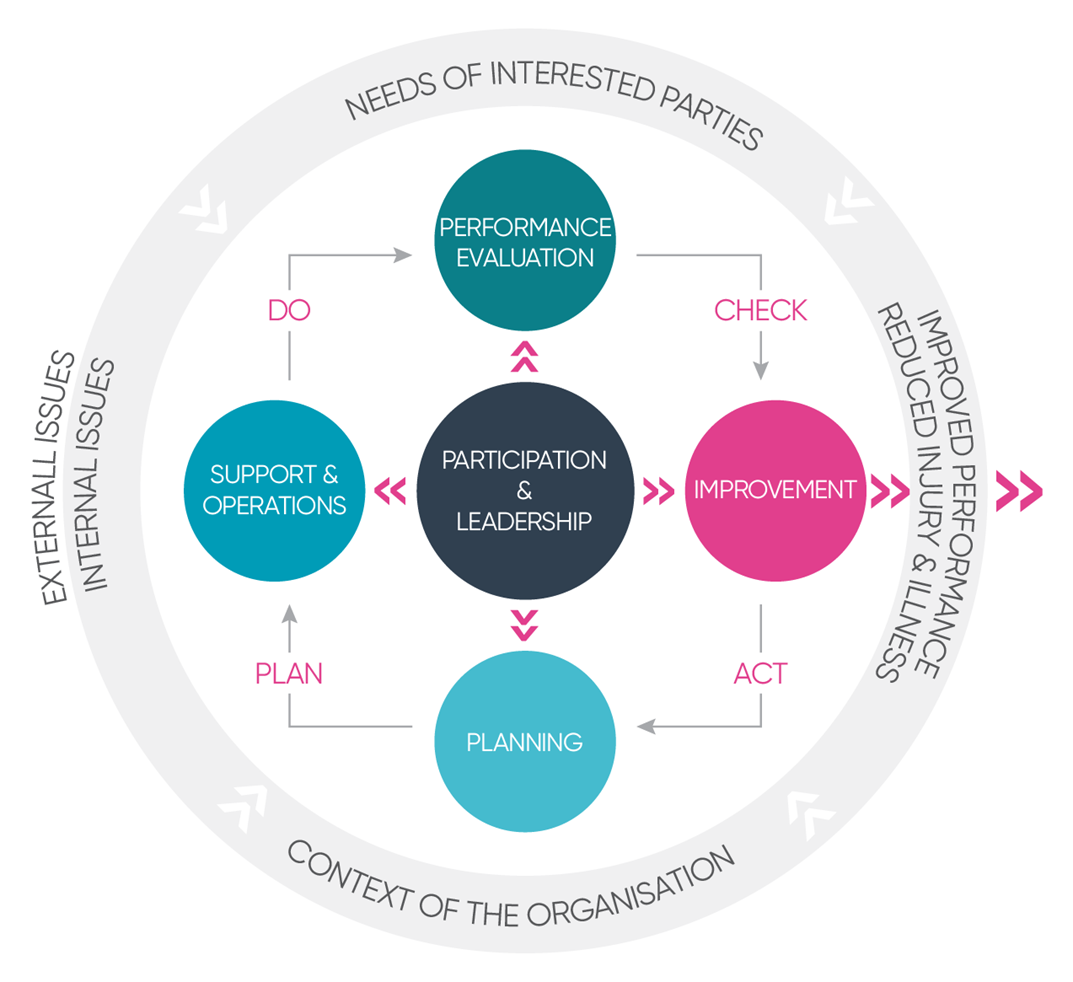 Planning is central to the OH&S management system and starts with understanding the organizational context and the needs of interested parties. Successful implementation relies on leadership commitment to focus the entire organization on developing a strong safety culture.
Doing - that is the execution of the plan - extends to all the activities and processes required to implement the OH&S management system, including safety operations, business change program, outsourcing and procurement and emergency response processes.
ISO 45001 contains several elements aimed at checking and managing the performance and effectiveness of the OH&S management system including monitoring, measurement, internal audit and evaluation.
Act refers to the need to address problems identified in the check stage.
Here are 12 actions that help you conform to ISO 45001 using Ideagen EHS
Plan
1. Digitalize your safety management business processes
Set up your organisational context within the system in order to automate safety management processes as well as organisational structure, locations, defined roles and even performance dashboards for senior management.
ISO 45001 is risk-based, meaning that it relies on the integrity of controls that either prevent or mitigate undesirable events. Those controls are often documents (policies and SOPs), inspections, or audits. You can use the integrated document management system in Ideagen EHS to plan, author, approve and publish all your safety documentation and you can use the Audit capability to plan and manage your program of audits and inspections.
2. Plan your safety audit and inspection program including:
Using our on-board safety audit and inspection checklists
Audit Finding and CAPA management
Creating and managing audit programs, checklists, questionnaires, findings, action items and audit reports
3. Automate Safety Management Workflows
Plan recurring and non-recurring tasks and automate the via workflows, including setting alerts and reminders for task owners
Set-up a library of safety management tasks and assign ownership to individuals or groups
4. Plan and automate your asset inspection and servicing program
Document assets, equipment and machinery in the asset registry. This is integrated with the incident reporting, audit and CAPA capabilities so that assets can be identified in future incident reports, audits and CAPAs
Schedule and assign your program of assets inspections and audits
5. Take a proactive approach to job risk assessment
ISO 45001 predicates a proactive approach to safety risk management. You can use the Job Safety Analysis app in Ideagen EHS to align with this by risk assessing jobs and identifying controls.
Manage employee sign-off and acknowledgement.
Do
6. Create a culture of safety awareness and incident reporting
Use the workflow automation and tasking capabilities in Ideagen EHS to automate many of the processes in your safety management system, including response to incidents. The level of automation achievable in Ideagen EHS helps you improve outcomes, productivity and efficiency as well as overall safety performance. It also promotes accountability and helps you eliminate blind spots.
7. Empower your people to be safety leaders
The mobile incident reporting app makes it easy for employees to be engaged with the system by reporting unsafe circumstances, incidents and concerns, assured in the knowledge that their concerns will be addressed and followed up in a manner that is both automated and visible to them.
8. Use the Safety Observations app
A quick and easy way to identify and correct unsafe situations and behaviors while reinforcing and rewarding safe behaviors.
9. Use the Training module
Use Ideagen EHS to manage all aspects of training. Report on targeted learning objectives within a central platform - improving training effectiveness and reducing the risk of non-conformity to the standard.
We also recommend using Ideagen Workrite learning management system to help employees understand ISO 45001.  Workrite can be tailored to fit your safety management training needs. You can even add your own content to support employee skill development.
Check
10. Encourage interaction and responsibility
Enable company-wide communication and accountability with the audit and inspection management capability
Be ready for upcoming audits while improving transparency and visibility of safety performance.
Prepacked audit content and question bank creation tools help you ensure conformity and demonstrate diligence.
11. Provide assurance
Provide visibility of safety performance to senior management and colleagues with the centralised reporting.
Create, save and publish a range of reports including incident and audit performance reports.
Act
12. Make life saving changes to keep your people and organisation safe
Ideagen EHS offers a range of tools to address problems identified in the check stage, including audit capability to track and manage findings and incident capability to automate response to reported events and CAPAs.
What should you do next?
Review the ISO 45001 standard and identify the gaps in your safety management system that need to be addressed.
Tasks to look at now include:
Gap analysis clause by clause
Alignment of policies and procedures
Training and competence management upgrade
Safety management workflows and response automation
Incident management and investigation procedures
Improved management reporting and visibility of trends
Create an action plan that includes senior stakeholders, representatives and champions throughout the business.  If you find significant changes are needed in your safety management processes this is where Ideagen EHS can be not just an enabler for positive change but also support you to drive long-term business process improvement.


Find out more about Ideagen EHS
Find out more about Ideagen EHS - our integrated safety management platform.
Find out more