It goes without saying; risk assessments are imperative under health and safety laws and failure to adhere to them could result in an offence. 
The Health and Safety Executive's (HSE) advises organisations to follow 5 steps to make the workplace as safe as possible for employees.
It's all well and good investing the time into a quality risk assessment but, if you don't have the tools to identify risk trends or alert others to gaps you have identified, your efforts might be in vain.
In this blog, we will explore the 5 steps of a risk assessment as well as how the functionality of a digital platform ensures no risks go amiss.
What are the 5 steps of a risk assessment?
Identify the hazards in your workplace
The first thing to do is scope out the workplace and identify anything you think could cause harm. Involve colleagues in this so you have additional eyes to identify risks. It's important to consider long-term hazards to health, as well as safety hazards, such as noise levels and exposure to harmful substances.
Assess the risks, establishing who might be harmed and how
To determine the most effective way of managing the risk, consider who in particular might be harmed in each hazard identified; some individuals may be at more risk than others. Consider what type of injury employees could be exposed to, for example, pickers may get a back injury from incorrectly lifting heavy boxes.
Control the risks, deciding on appropriate precautions
By law, it is an employer's responsibility to have everything 'reasonably practicable' to protect people from harm. Legally and morally, you must evaluate your current working procedures against recommended, good practices, noting if there is anything you could be doing better. It may not be possible to remove the hazard completely, but you should be able to control the risks caused by it.
Record all findings and established risks
Once you have the results of your risk assessment, ensure you record all significant findings; this is essential if you employ over 5 people. Write down what the hazards are, who would be affected and what you are doing to control said risks.
Consistently review the measures put in place to reduce potential risks
Any controls put in place to mitigate risk in your workplace must properly be monitored to ensure they are working and identifying potential gaps. Additionally, they must be reviewed if there are changes within your workplace that could cause new problems to arise, for instance, if you onboard new staff, change processes, or use different equipment.
What are the benefits of conducting a digital risk assessment?
Prove regulatory compliance at the click of a button, without the burdensome paper trail

No need to be connected to Wi-Fi thanks to the system's offline capabilities. You can use your mobile device or tablet to capture information, on-the-go, without the hassle of filing paperwork after and manually scheduling corrective actions

Monitoring the efficacy of your processes and controls is simple, making it easy to spot changes in hazards

With an easy-to-use reporting function, employees across the workforce can report hazards, with the system automatically notifying the appropriate parties

Make your corrective action process simple, with a digital, adaptable to-do list at your fingertips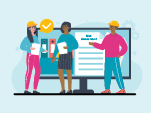 Our Mobile Inspection Solutions are able to save our customers up to 32 hours a month. Who wouldn't want that?
Read our case study