Strategic risk: a quick guide
11 June 2021
Strategic risk refers to the internal and external events that may make it difficult, or even impossible, for an organisation to achieve their objectives and strategic goals. These risks can have severe consequences that impact organisations in the long term.
Given the significance of this type of risk, we have put together this quick guide to help you get up to speed with all things strategic risk, including strategic risk examples, definitions, and an overview of strategic risk management.
Let's start by diving a little deeper into what exactly strategic risk is.
What is strategic risk?
Strategic risk is a category of risk in the same way that risks such as operational risk, financial risk, reputational risk and regulatory risk are. Sometimes, strategic and operational risk can be confused with each other, but we will get to the differences later. First, let's look at some strategic risk definitions.
Roberts, Wallace and McClure (2003) describe strategic risk as relating to 'risk at the corporate level' which 'affects the development and implementation of an organisation's strategy.'
Similarly, the Economist Intelligence Unit (2010) explain that 'Strategic risks are those that pose a threat to a company's ability to set and execute its overall strategy.'
Deloitte (2013) expand on this strategic risk definition, stating that these risks can also be 'created by an organisation's business strategy and strategic objectives'. In other words, as well as impacting how likely an organisation is to achieve its strategy, strategic risks also arise from strategic decisions themselves.
Furthermore, Louisot and Ketcham (2014) state that strategic risks are 'associated with adopting or not adopting the correct strategy for an organisation in the first place or, once adopting, not adapting the chosen strategy in response to competition or other forces'. This, and the definition from Deloitte, align with Roberts, Wallace and McClure's statement that 'one example of strategic risk is the risk that the strategic decision is wrong.'
So, what can we learn from these strategic risk definitions?
In essence, strategic risk refers to the events or decisions that could potentially stop an organisation from achieving its goals. It also refers to the danger of an organisation's strategic choices being incorrect, or not responding effectively to changing environments.
As you may suspect, your organisation will therefore need to be aware of the possible circumstances that could put an obstacle between your organisation and its objectives. You also need to be ready to adapt and respond quickly to any changes.
What is the difference between strategic risk and operational risk?
Both strategic and operational risk can have serious consequences for organisations if they materialise. After the 2008 financial crisis, many organisations wanted those working in risk management to look beyond operational risks and focus on strategic risks due to a lack of effective foresight. However, as operational risk refers to the more immediate and tangible risks your organisation could face, disregarding this completely would be a mistake.
Here are the key differences:
| | |
| --- | --- |
| Strategic risks | Operational risks |
| Relate to strategic decisions or objectives set by the board | Are broad in scope, relating to systems, processes and products |
| Are long-term, affecting an organisation's future | Are short-term, affecting daily activities |
| A 'high-level' look at risk | A 'ground-level' look at risk |
Strategic risk examples
Examples of events or circumstances that could derail an organisation's strategic goals include:
Strategic decisions that are unclear or poorly made
Changes in senior management and leadership
The introduction of new products or services
Mergers and acquisitions which prove unsuccessful
Market or industry changes, such as a shift in the needs or expectations of customers
Problems with suppliers and other stakeholders
Financial challenges
Failure to adapt to a changing environment or keep up with competitors
Company reputation damage
And that list is not exhaustive. Almost any strategic decision the board makes can run the risk of not working out, and there are a range of activities – operational and otherwise – that have the potential to stop your organisation from achieving its aims. That's why having an effective strategic risk management process is so imperative.
What is strategic risk management?
Strategic risk management is a term that can cause some confusion. Does it relate to risk management that is strategic in nature? Or does it refer to the actual management of strategic risk? The truth is, it can mean both. For the purposes of this guide, we will look at how you can manage strategic risk.
The good news is that you can follow the same 5-step process of identifying, assessing, treating, monitoring, and reporting that you would when handling other types of risk.
Your strategic risk management framework may therefore look something like this:
1. Identify the strategic risks your organisation could come up against
2. Conduct a strategic risk assessment to determine the likelihood of risks occurring, and the impact they might have
3. Choose a strategy for dealing with each risk
4. Monitor each risk over time to keep on top of any changes
5. Report at each stage of the strategic risk management process
When it comes to managing strategic risk, make sure you pay close attention to organisational strategy and objectives, have a broad oversight of the strategic risks you could face, and be proactive by adapting to changes and responding effectively.
Improve your strategic risk management framework with technology
Having a proper risk management process in place helps ensure your organisation is prepared to handle strategic risk. With risk management software, you can maximise these efforts. After all, the benefits of technology include time-saving automation, and improved quality and efficiency of risk decisions. Technology can also help you stay on track of a constantly changing risk landscape, which is imperative for managing strategic risk.
What's more, the right software can help you put your strategic risk management framework into focus, so you can be sure that your organisation is doing the most that it can to achieve its strategy and manage any risks that arise along the way.
Find out how to choose the right risk management technology for you, to help your organisation better manage strategic risk.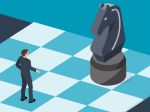 Be prepared to handle risk
Discover how to choose the right solution to help your organisation improve its risk management activities.
Find out more
Related blog posts
Here are some more blog posts that you might be interested in.
24 May 2021
In today's ever-evolving risk environment, having a robust risk management process in place is non-negotiable. But which key elements should risk professionals consider to ensure that they have covered all bases?
23 April 2021
Having an appropriate risk management strategy is critical to dealing with the many types of risk that your organisation could face. But what is a risk management strategy? And what risk management strategies can you use?