Quality in manufacturing is a very different concept to quality in everyday life. You might think of a quality television as one with the latest technology, 8K OLED screens, with vivid and bright color and dozens of in-built features. However, quality in manufacturing doesn't relate to the bells and whistles of a product, instead it focuses on whether the product is produced consistently to the same standard, matching specifications required by the customer. For example, you wouldn't naturally describe a standard biro pen as a quality product – but if that pen is manufactured, without the ink leaking or with a broken cap, created uniformly and suitable to its purpose, then you've ensured manufacturing quality.
What is Manufacturing Quality?
Manufacturing Quality is all about creating a product that adheres to the specifications required. Along with the rapid growth in technology, customer expectations for quality has grown and thus it's expected that products are delivered 'right first time'. I.e. the right product, delivered on time, every time. To avoid poor quality products (and the cost of poor quality), it's essential that quality is embedded throughout the manufacturing process from the design stage, through to production and delivery.
This ties into the processes that allow you to track quality at every stage – primarily quality assurance, which looks at the processes involved in manufacturing, ensuring that you can proactively prevent nonconformity, and quality control which searches for defects with the products during production before reaching the delivery stage.
Manufacturing Quality and APQP
APQP (Advance Product Quality Planning) takes into account what your customers want, following a five step process to make certain that quality is kept at the forefront throughout the lifecycle of production. It ensures you have a consistent production run, avoiding delays due to poor quality.
The five steps to APQP are:
Planning
Product design and development
Process design and development
Product and process validation
Ongoing production, use and post-delivery service
APQP incorporates PPAP (Production Part Approval Process), which focuses on risk analysis around the features and characteristics of the assembly of the part. APQP and PPAP are requirements for a number of standards in various sectors. They both pay a large part of AS13100 in the Aerospace sector for example. This new standard is applicable for anyone in the Aero Engine supply chain and combines AS9100 and AS9145 whilst adding supplementary information. Chapter 2 of AS13100 focuses on the performing and documenting of APQP and PPAP whilst Chapter 3 focuses on core defect prevention tools that support APQP and PPAP.
Modern Manufacturing Quality Management
If you're relying on manual, written reporting for your quality management then you're at a significant disadvantage in numerous ways.
Time consuming and inefficient
Written reporting itself is more time consuming, especially when it comes to areas like ballooning a drawing. A digital solution simplifies the process of creating industry specific quality reports and minimizes the time spent on tedious, manual tasks.
Lack of accountability and visibility
With manual reporting, it can be very difficult to trace and track documentation and processes, especially for older reports that might have been archived. You also run the risk of reports missing a signature or documents becoming lost. Ultimately, you have more chance of human error and less chance of accountability for those errors.
Error Prone
Completing manual reports allows for more elements of divergence. This can make it hard to ensure that the correct records are in circulation and means you'll need more meetings to ensure everything is progressing as expected.
Having a standardized process gives confidence that everything is being completed correctly for more consistent end results. This minimizes the chance of human error and provides reassurance to customers that everything is consistently to the correct standard.
Lack of data
With manual reporting, you can't easily track issues as you identify them. You also lack the ability to effectively analyze the quality data you've collected, meaning that identifying trends and areas to improve your quality processes, becomes near impossible.
With an automated solution, you can generate reports automatically and access data at each stage of the production process. You can import data from your CMM software and export data to other third party solutions.
How do you maintain quality in manufacturing?
To ensure you're maintaining a cohesive standard of quality throughout your business, it's essential you have reliable and flexible quality assurance software. Manufacturing Quality is all about leveraging technology to cut down on waste whilst also maintaining quality throughout your business. Ideagen Q-Pulse PM is the tool that enables you to do that.
Product management software is essential for any manufacturer looking to ensure consistent and continual quality. Using outdated systems leads to repetition of work and poor communication.
Ideagen can help ensure all of your part data is in one place, reducing opportunities for errors, and meaning quality reports can be produced 75% quicker.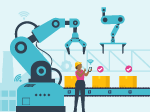 Discover what's next for manufacturing
Find out what the future holds for manufacturing by downloading our guide.
Download now