Dreaming of a hazard-free Christmas: how to conduct a Christmas risk assessment
15 December 2021
Do you need to conduct a Christmas risk assessment?
Whether you're draping festive lights around the office, organising the ultimate Christmas party, or simply putting up a tree, there are a number of things that may not go quite to plan. Statistics from the National Accident Helpline would suggest that Christmas isn't always the most wonderful time of year.
During the festive session:
400,000 turkeys are burnt
500,000 people suffer a house fire
And a whopping 2.6 million people injure themselves while putting up decorations
Whatever you get up to this Christmas, a thorough risk assessment is a key part of the risk management process. It involves identifying, analysing and evaluating potential risks. Crucially, you need to work out how likely the risk is to happen and the impact it could have. This is essential in helping you decide how to deal with risks like those listed above.
If you're dreaming of a hazard-free Christmas, this blog takes a look at some common festive activities that may require a risk assessment, as well as how you can manage the risks your organisation comes up against.
Christmas lights risk assessment
You may be surprised to hear that 350 people are hurt by Christmas lights each year! When completing a Christmas lights risk assessment, the first step is to identify the potential risks of using fairy lights. For example:
Faulty electricals may lead to electric shocks or fires
If hanging the lights up high, employees could be at risk of falls and injury
The cables may create a trip hazard
If placing lights outdoors, hazardous weather could pose a danger
The next step is to assess how likely the risks are to occur and how severe the consequences could be. Tripping on the light cables is more likely to happen than a fire, particularly if you have conducted checks to ensure the lights are safe to use. However, a fire would potentially have more threatening consequences.
Christmas party risk assessment
The same process can be used to conduct a Christmas party risk assessment.
Potential risks you may identify could include:
Alcohol consumption may lead to embarrassing, and potentially dangerous, situations
If the party gets out of hand, reputational damage could be on the cards for both attendees and your organisation as a whole
With Covid-19 rearing its head once more, employee health is a growing concern
The set up of the venue could cause slips, trips and falls
If you are serving food, allergies and dietary requirements will need to be considered
Now think about how likely the risks you have identified are to happen and the impact they could have. When it comes to alcohol, for example, questionable and mischievous behaviour is all but a certainty. After all, people in Britain glug a staggering 5.7 billion units of alcohol over the Christmas period!
The severity of alcohol-related incidents, however, will vary. An eggnog-induced Dad-dance may be humiliating, but it won't cause enough harm to warrant a place within your risk assessment. Drinking and driving, on the other hand, is no laughing matter.
Christmas tree risk assessment
Each Christmas, 1000 people become victim to the unassuming Christmas tree. How? Here are some examples:
The tree may fall over and injure people nearby
People could fall from height while decorating the tree
Tree decorations, particularly those that are heavy or made of glass, may fall and cause injury
The tree could obstruct building exits and become a healthy and safety hazard
Consider the Christmas tree that you are going to use in your workplace or event. What other risks could it bring?
The next step in your Christmas tree risk assessment, you may have guessed, is to work out the probability and seriousness of each risk. For instance, decorating hard to reach branches is usually the most common cause of tree-related injury, so measures may need to be taken to address this.
You've conducted your Christmas risk assessment. What next?
Once you have identified your risks and determined their severity and likelihood, you will need to work out how you are going to manage them. Some organisations find a risk matrix a useful tool to decide how a risk should be dealt with.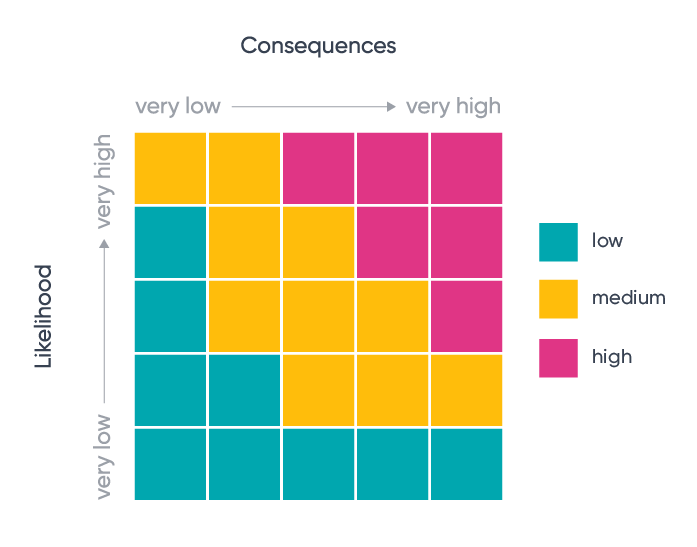 Green risks (those that are unlikely to happen or would have minor consequences if they did happen) can usually be accepted. Yellow or red risks, however, are more concerning. These would require controls to mitigate the risks – or the risk will need to be avoided altogether.
Let's take a look at some examples of actions that you could take to reduce the risks associated with your Christmas lights risk assessment, Christmas party risk assessment, and Christmas tree risk assessment.
Christmas lights
Check lights are working properly and are not damaged in any way before use
Do not overload your plug sockets; this is a common cause of fires
Make sure that all employees receive thorough fire safety training
If putting lights up outside, only use lights that are specifically designed for outdoor use
Take care when putting lights up and use stable ladders if working at height
Christmas party
Remind your employees to drink responsibly and encourage sensible behaviour to protect your reputation and keep everybody safe
Keep up to date with the latest Covid-19 government guidance and ensure all employees follow safety measures. You may consider making lateral flow testing mandatory for an in-person Christmas party
If you deem the Covid risk too severe, you could avoid the risk by moving your party online
Visit the site of your Christmas party to ensure it is a safe environment
And, maybe, don't get involved in the Macarena. Or touch the photocopier.
Christmas tree
Consider having the tree professionally put up, decorated, and later removed from the premises
Avoid using glass decorations or other sharp, easily breakable materials
Ensure the tree has a sturdy base to reduce the chance of it falling
Place the tree in an appropriate area that is not blocking any pathways, doorways and fire exits
After deciding how you are going to treat your identified risks, you will need to regularly monitor them and adapt your approach if necessary. Reporting is also a crucial part of an effective risk management process.
How else can risks be managed?
Many organisations benefit from using risk management software. Robust risk management software can support you in identifying, analysing and evaluating risks, for example with heat maps and charts. It can also help with incident management, monitoring risks, and reporting.
See if our risk management solutions could make your Christmas risk assessment an easier process.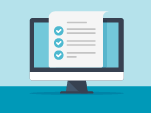 Discover our risk management solutions
We help businesses put their risk management processes into focus. See how our risk management solutions can support your organisation beyond the festive season.