Undoubtedly, technology plays a crucial role in improving operational efficiency in the construction industry, especially in an increasingly digitised economy.
Why cybersecurity risk is growing in construction
Cybercriminals have become more sophisticated when attacking the construction industry as it grows rapidly. As the construction industry adopts new technologies and goes digital, sensitive data needs to be protected. This includes documents, personal information, building models and much more.
The pandemic has driven this sector away from legacy IT
It has become increasingly clear that artificial intelligence (AI) and advanced analytics (AA) are enabling new levels of efficiency and creating new possibilities in risk management.
Based on projections made by The Construction Products Association (CPA) for the year 2022, it was predicted that the industry's output would grow by a robust 4.3%, slowing down to 2.5% in 2023, compared to a 13.3% growth in 2021.
Considering that the pandemic has driven this sector away from legacy IT and towards digital acceleration, cyber security has to evolve in line with this.
What construction managers need to know about cybersecurity
We are facing a growing challenge regarding cyber security, especially in the construction industry. Identifying and addressing cyber risk vulnerabilities has been a challenge for many companies. As many cyber criminals are aware, contractors retain vast amounts of sensitive data which is of interest to them. This data can range from employee information to intellectual property.
Awareness and understanding of the threats may provide contractors with a better understanding of how to identify vulnerabilities, prevent attacks, and if they do occur, improve recovery efforts following a cyberattack.
In recent years, several high-profile data breaches have raised awareness of cyber risks. These successful cyberattacks against tech giants have highlighted just how sophisticated they are.
Cybersecurity threats to be aware of
Here is a look at three common cybersecurity threats:
Computer Virus: Computer viruses are malicious programs that change a computer's behaviour without the user's knowledge or permission. They are the most common cyber threat and put you and your computer at risk.
Phishing: Phishing seeks out people or habits that criminals may exploit. Fraudulent emails, messages or phone calls can be used by scammers to steal personal and financial information from victims. Often, the offender requests access to a system or information about the victim, such as a credit card number. They may also attempt to get the victim to visit a website where personal data can be accessed. Fraudulent companies, businesses, or individuals may be responsible for it.
Ransomware: This attack occurs when a link or file in an email is clicked or hackers crack your password. They then hijack your computer and data until you agree to pay a fee.
Wire Transfers: Fraudsters gain access to companies and individuals through wire transfers. Construction is a particular interest since there are usually multiple bills, invoices, and payments. In this scam, the criminal sends forged invoices or calls requesting immediate payment for items.
Spyware: A cybersecurity threat of this type involves a program that monitors your online activities. Additionally, it can install programs without your consent to collect information about you or for profit.
Hackers: There is a high income associated with hacking, so it's no surprise that a growing number of hackers appear on the market daily. They can steal data, modify, or destroy information by hacking into computer systems.
Putting safeguards in place
Cyberattacks are increasingly becoming more costly, and human error is the most significant concern.
With modern technology advancements, cyberattacks can be prevented or, in most cases, improve victims' chances of dealing with them if they do occur.
Cloud computing has replaced yesterday's weaknesses with more robust security and protection measures. It's generally safer than software installed locally on your business' computers and servers or manual processes, as security incidents are more familiar with older software and processes- which is why this has led to its adoption by many leading construction firms. When you host data in the cloud with a reputable vendor, you get daily monitoring and protection handled by technologists who know how to spot them.
Data breaches aren't only about unauthorised access to customers' private information but also about losing control of the business. It could result in irreparable reputational damage to a company if clients (and prospective clients) feel that sensitive data isn't safe with you.
Having a solid cybersecurity reputation in construction is crucial now more than ever. Keep your most sensitive information protected. Discover how Huddle's government-grade security and cloud-based client portals can benefit your business.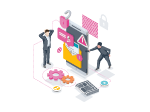 Download your free e-book
Find out how Ideagen Huddle's client portals can benefit your business.
Download e-book