3 reasons why construction projects need a QMS
17 July 2019
2017 saw major issues within construction, some with devastating results. The need for an adequate Quality Management System (QMS) in construction has never been more prevalent after the fatal incident of the Grenfell Tower fire in London where 71 people lost their lives. In the same year, a report was also published by Professor John Cole about the failings which caused 17 Edinburgh schools to be closed.

As a result, the Charted Institute of Building (CIOB) launched an investigation into the issues with quality in the construction industry. To start with, there was a workshop at the CIOB Member's Forum and the Royal Institute of British Architects (RIBA) to discuss the problems that workers faced. The areas that the research identified included regulatory standards, working with and gaining new clients, company policies and job satisfaction.

Data was also collected from CIOB members, government bodies and the wider construction sector, the findings are summarised below: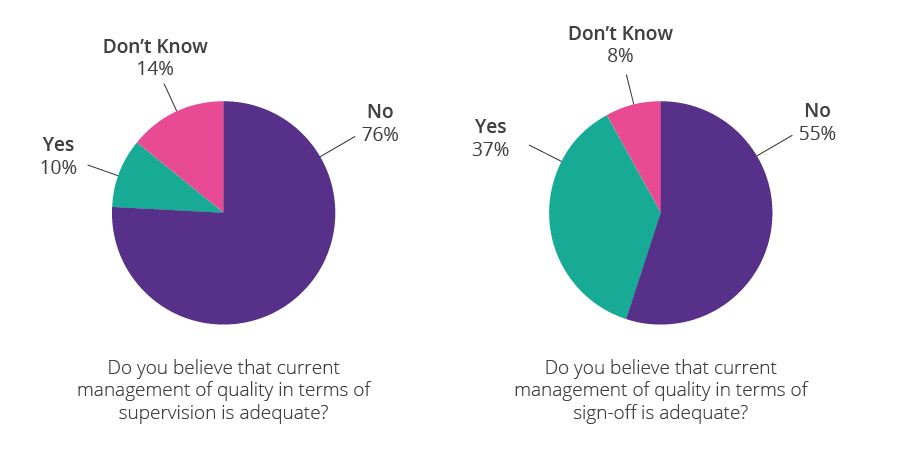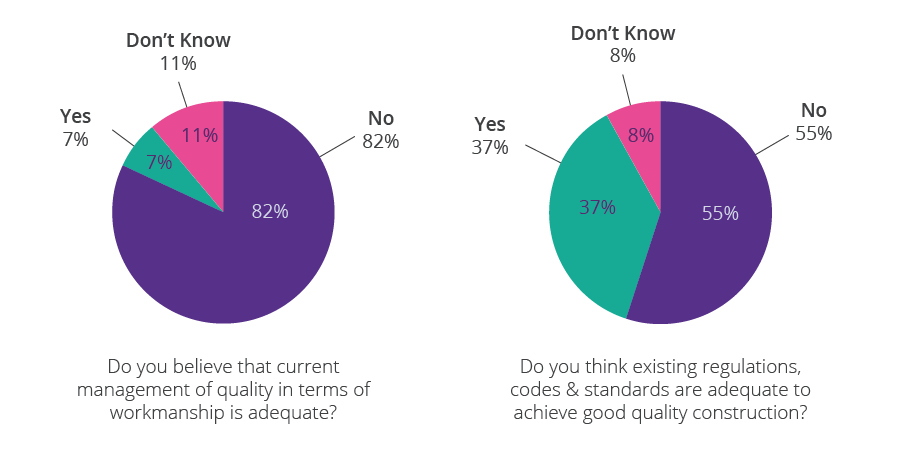 Source: CIOB

The data concludes that stakeholders in the construction industry share strong concerns that poor quality work is being produced. It brings to the forefront that quality has been low on the list of priorities, with organisations focusing on satisfying regulations on health, safety and environmental concerns.

The consequences of this are severe, as shown by the poorly constructed Edinburgh schools and the Grenfell Tower. Also, poor quality can lead to reputational damage and significant financial implications.
Why implementing a good QMS is so important:
1. To safeguard your reputation

It's simple - poor work is going to lead to unhappy customers. Construction projects which yield shoddy results are detrimental to client relationships, resulting in bad reviews. You also run the risk of media coverage that can be shared quickly via social media.

2. To avoid losing money

The main reason for construction projects going overbudget is due to repairing and rectifying mistakes or poor-quality work. It's estimated that 5 to 15% of project costs are spent on this. Having to cover costs to undertake repairs can often snowball as additional problems are discovered that cost even more to fix.

3. To ensure safety and prevent accidents

What happened in London with the Grenfell Tower was a failure of quality and the result of poor construction. This is a tragic reminder of the true cost of poor quality, something that needs to be taken seriously to make sure buildings are constructed properly without any risk to those relying on the finished result.
The bottom line
Whilst cultural and mindset shifts take time, there are robust construction quality management software tools available to help improve and manage quality for the duration of the construction process. This includes document control, ensuring all contractors and sub-contractors are up to date with plan revisions, accurate inspection auditing and precise reporting of progress throughout the project.

Q-Pulse is a quality management software solution that provides total control, operational excellence and integrity. Learn more about how you can raise standards and build reputations using a robust QMS in construction projects. Request a free demo today