On 1st January 2023, the German Supply Chain Due Diligence Act came into force. It applies to organisations headquartered in Germany who have 3000 or more employees, or organisations that have a branch located in Germany with 3000 employees or more working there.
It's a law that requires companies to have a far greater oversight of their supply chain when it comes to human rights. Companies are required to make a reasonable effort to ensure that there are no human rights violations within their supply chain. Approximately 900 German companies will be affected.
What do you need to know about the German Supply Chain Due Diligence Law?
From January 2024, the act applies to companies with 1000 or more employees, either at their headquarters or a branch in Germany. The act, therefore, will soon capture significantly more businesses within it's purview.

The act doesn't require that you succeed in completely removing human rights violations from your supply chain, but rather that you put processes in place that demonstrate a reasonable effort.

The act covers many human rights violations including:

Child labour

Forced labour

Unsafe working conditions

Employment and wage discrimination

The act also accounts for the environmental impact that organisations in your supply chain might have. This includes banning several environmentally harmful practices and pollution levels that negatively impacts on human rights.
My organisation does not have a branch in Germany, is this act relevant for me?
Regardless of whether your headquarters, or a branch or two, are located in Germany, or you are a supplier to a German business, this act should at least be on your radar. First of all, if you are already in the supply chain of a German company then you will begin to receive more frequent and detailed requests asking for information on your processes. This may have you adapting and updating your risk and compliance procedures and creating awareness within your workforce of these new policies, in order to retain important customers.
Secondly, Germany are simply the first out of the gate with this act. Similar legislation is currently being discussed at the European Union and it may go even further than the German Act. So, regardless of whether this impacts on your organisation right now, it is still something to plan for.
Does this only include my direct suppliers?
No. As well as your own business and direct suppliers, going forward, you must carry out a risk analysis and demonstrate that you have applied preventative measures if you know of a possible human rights violation within your indirect suppliers. While this is something you would only need to carry out on an ad-hoc basis, there is scope for the act to change in the future to fully incorporate indirect suppliers.
What are the penalties for violating this act?                                                    
Non-conformance with the act can result in fines of up to 8 million euros or, for companies with turnover exceeding 400 million euros, 2% of their annual global turnover. Companies will also be excluded from public tenders for up to three years.
The Solution: A Digital QMS is your one-stop shop for compliance
Looking at the procedures needing to be put in place in order to comply with the act, it covers the following areas; risk management and risk assessment, preventative and remedial actions, and documentation and reporting. These are all areas that are empowered by Ideagen Q-Pulse QMS.
With Q-Pulse Risk, you can thoroughly assess the risks of human rights violations within both your business and your supply chain. Schedule regular and automatically recurring risk assessments, assigning responsibility to key stakeholders, in order to build a business-wide understanding of the risks that exist within your supply chain. The module allows you to comprehensively document your risk management activities and, therefore, demonstrate compliance proving effective controls are in place.
The third-party management module in Q-Pulse gives you a single source of truth for all supplier information. Assess, review, and approve - or reject - suppliers, building a flexible but robust supply chain. Drive reviews and reports quickly and easily, stamp out non-conformances, and build happier relationships with your suppliers.
Another aspect of the act is the development of a policy statement and the communication of this policy to your workers, suppliers, and customers. The Q-Pulse document management module is the perfect tool for this, allowing collaboration in the creation of the policy between stakeholders, and then providing simplicity in circulating the policy securely to your employees. This consistent framework gives you full confidence that the document is accurate, up-to-date, and being adhered to.
Additionally, the documents module gives you a complete audit trail of the duty of care obligations that you have carried out, allowing you to easily report on the risks identified and measures taken.
As part of preventative measures in your own business, and within your supply chain, you need to be consistently training employees on your new policies regarding human rights and environmental risks. Build and schedule dedicated training sessions which can be pushed out to your staff and your suppliers. Access a living library of your organisations completed and scheduled training to easily prove that you have put preventative measures in place.
Your supply chain is increasingly an extension of your business
Your supply chain is firmly a part of your business, especially when it comes to your brand reputation and image. Simply saying 'we didn't know about the human right failures within our supply chain' isn't acceptable. A failure in this regard can permanently damage your brand so abiding by this, and other acts, is as much about preserving your reputation and retaining your staff as it is about avoiding costly fines.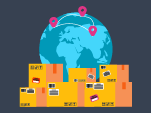 Further Resources
To find out more about how Ideagen can help you adhere to the German Supply Chain Due Diligence Act, maintain quality, and manage risks within your supply chain
Book a demo