What are ISO standards?
14 December 2021
ISO standards are varied and far reaching, covering many different areas of life. So just what are ISO standards and why are they important? No matter what type of company you work for, it's likely that you've encountered at least one type of ISO standard that you are required to work towards.
ISO definition
ISO is an abbreviation of the International Standards Organisation. They are an independent body made up of an extensive network of individuals who are experts in different areas. This allows them to share and pool together their experience and knowledge of different fields to determine best practices and key safety information to define the best way of carrying out certain tasks or processes.
An ISO standard is essentially an internationally recognised way of doing something. It means that everyone follows the same set of guidelines no matter where they are based, resulting in a safer, more consistent end result. This benefits both the organisation and the customer or end user. For companies, they are secure in the knowledge that this standard is followed and recognised worldwide. For customers, they know they are getting a product or service which is safe, good quality and trustworthy.
What are the different ISO standards?
There are currently 24106 different ISO standards. Some are very specific, such as ISO 8124 which is about the safety of toys, while others are more general and serve as a framework to manage a variety of processes throughout the business. For example, ISO 9001 which is the standard for a quality management system. Some of the most popular standards include:
ISO 9001: the standard for a quality management system
ISO 27001: a system for managing information security
ISO 45001: the occupational health and safety management standard
The benefits of ISO standards
Getting certification for ISO standards brings a number of benefits. Firstly, it gives you tried and tested methods for best practice in every aspect of business operations. The international nature of them means that the standard that you are operating at is universally recognised, making it easy for external parties to work with you.
Following ISO standards also simplifies your wider regulatory requirements. For instance, meeting ISO 9001 ensures that your quality management system follows best practice and covers all necessary areas, including evidencing regulatory activities. In addition, having ISO certification demonstrates a level of quality and safety to customers, that you're a brand they can trust.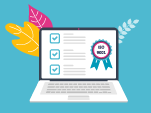 Manage ISO compliance
Now you've got an understanding of 'what are ISO standards' find out how our software supports organisations to meet and maintain ISO certification.
Related blog posts
Here are some more blog posts that you might be interested in.
11 February 2015
The revised ISO 9001 standard has moved away from what it previously called "preventive action" towards a "risk-based approach". Preventive action was found to be lacking when it came to driving change and continuous improvement. The risk-based th...
Continue reading
01 June 2021
ISO 45003 is a new standard that will address an important gap in health and safety guidance: psychological health and safety. This addition to the ISO 45000 family is a proactive attempt to make good mental wellbeing a core part of a company's cu...
Continue reading