A Christmas message to Waystar RoyCo…
09 December 2021
"Should auld acquaintance be forgot, and never brought to mind?"
It's been a tough year for Waystar RoyCo, the troubled media empire of © HBO's hit TV show, Succession. * Throughout Season 3, there have been endless trials and tribulations for Logan Roy, the old-school patriarch (played by Brian Cox), and his four rivalrous children who are fighting for power in the family business.
Following decades of mismanagement, nepotism and crimes—involving dead bodies and crimes that were swept under the dusty corporate carpet—Waystar RoyCo is in hot waters. Kendall appears to have finally given up fighting his father; Tom is testing out 'prison food'; Greg is suing Greenpeace for reputational damage, and Logan is balancing his corporate health with his aging physical condition. While Shiv is more driven than ever before to become CEO, Roman is in trouble (for that photograph). As this tense season draws to a close, we get the sense that anything could happen: allegiances are constantly shifting in family-run empire.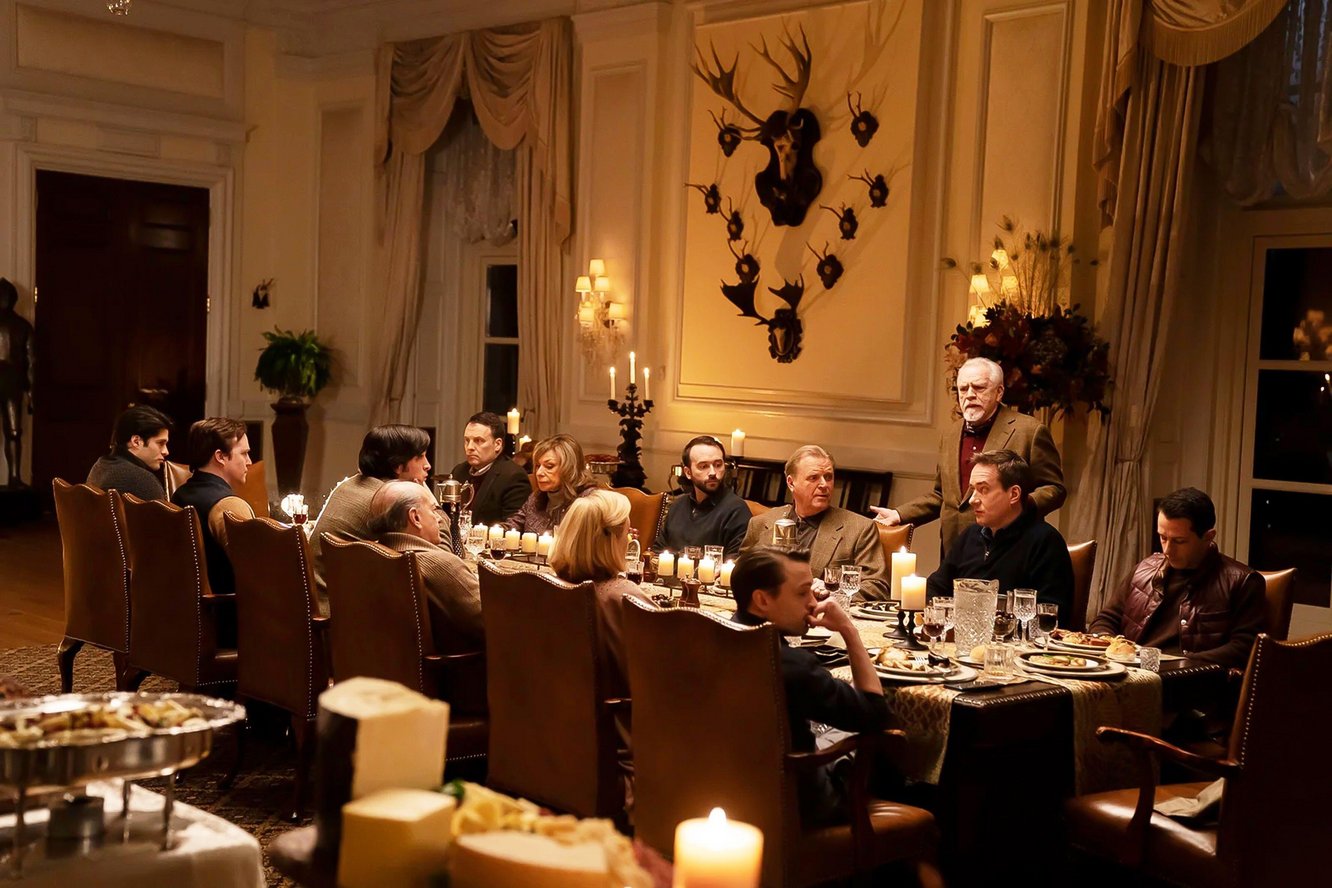 Brian Cox, Kieran Culkin, Jeremy Strong in the ©HBO TV show: Succession season 2 (2019). Supplied by Alamy/Landmark. **
On a recent episode of © HBO's Succession Podcast ***, organisational psychologist Adam Grant says that, in real life, he would diagnose all the family members with personality disorders. When asked if families this dysfunctional be saved, he replied: "I don't think they have a chance in hell."
Looking ahead to the new year, optimists among us may say that there's even hope yet for Logan Roy and his children to transform and modernise their—let's face it—corrupt and dysfunctional company.
Drawing on our governance, risk and compliance expertise, we've come up with 'Five Golden Rings' of corporate advice for Waystar RoyCo as it approaches a fresh start in 2022.

Governance
While the family members are battling it out for personal power, their generational divisions also represent broader challenges in corporate culture: how to modernise a company and stay relevant? How to get the balance right between innovation and maintaining company traditions?
Good governance is a system of rules, policies and processes that include ethics, resource management, accountability and management controls. Any fans of Succession will know that Waystar RoyCo needs to urgently address its corrupt, nepotistic and seedy culture. We'd strongly advise that the Roys launch an effective diversity and inclusion programme and ensure that the best people, with the most relevant experience, are given senior positions. For goodness' sake, don't let Connor Roy lead the Europe or Cable divisions!
Finances
In Season 1, we found out that Waystar RoyCo had a staggering $3 billion of secret debt. This hails back to the mid-1980s when Logan took out a $3.25 billion loan with the Industrial and Commercial Bank of China (ICBC) and secured it against his stock in the company. If the stock price ever hits $130 per share, the bank can pursue repayment in full. This could bring the family company to ruin.
Given that Waystar needs to rebuild trust with its key shareholders and the public, the company urgently needs to manage its finances more responsibly. High-quality reporting is vital for investors and other users of accounts to make better-informed decisions about a company's health and prospects. We would advise the company to read our white paper on how cloud technology can transform and modernise financial reporting.
Reputational Risk
Lingering memories of 'Mo Lester', the Brightstar Cruises investigation, Kendall's shocking press conference and Logan's ill health have all contributed to severe reputational damage for Waystar. In order to rebuild its image and regain the trust of shareholders, the company needs to implement a robust risk management lifecycle. It should get to know its different stakeholders' expectations by creating surveys, polls and interviews. Using objective researchers can help to build trust and deliver a more accurate picture.
The next step is to identify any differences between company performance and expectations before building an effective risk management strategy with the insight. A risk solution can provide Logan Roy and the rest of the C-Suite with greater oversight of their business so that they can (hopefully!) make better, and more responsible, decisions in the future.
Environment, Health & Safety
Waystar RoyCo's dark past, involving the cruise ships scandal, has severely damaged its reputation. Its EHS management needs a drastic overhaul in 2022. The company needs to create a positive and thriving safety culture in which all employees feel that their health and wellbeing is a priority.
Organisations with a positive safety culture promote the idea that safety is both a collective and an individual responsibility. Safety attitudes and behaviours are encouraged from the top to the bottom of an organisation via the leadership and role modelling of supervisors, managers and the C-suite. Employees throughout the company also feel included in a safety dialogue via regular training sessions and e-learning on the importance of health and safety.
Collaboration
While effective collaboration is important in any company, it is urgently needed in Waystar RoyCo. When meeting with an important shareholder in Season 3, Kendall argues that the company is in safe hands—despite the conflict between himself and Logan—because 'the Beatles did their best work when they were broken up.' Yet their failure to present a united front led to them losing their shareholder's support and confidence.
Professional collaboration tools, such as real-time document redaction software and client portals, promote better working relationships across a business. They enable your teams, partners and clients to work securely and seamlessly together--wherever they are in the world. While they might not provide the answer to the Roy family's myriad communication problems (who are we kidding?!), we know that these tools effectively boost harmonious collaboration and productivity across many leading organisations. Failing that, the siblings could try... therapy?!
We hope you enjoy the holidays.
And guys, "We Here for You" this Christmas…   For more festive fun, read our blog on Santa's Quality Management System.
Read now
*Copyright: © 2021 Home Box Office, Inc.
**Ref: LMK106-J6947-051120. Supplied by LMKMEDIA. Editorial Only. Landmark Media is not the copyright owner of these Film or TV stills but provides a service only. Copyright: © 2019 Home Box Office, Inc.
***Copyright: © 2021 Home Box Office, Inc.