How can manufacturers mitigate the energy crisis impact?
20 September 2022
The energy crisis impact on consumers and businesses has dominated the news over the summer. New Prime Minister Liz Truss recently announced that the government would be freezing the cap for consumers at £2,500 for typical households. For businesses, a sixth-month scheme will offer what was termed "equivalent support" to that for households.
What are the effects of the energy crisis?
 The energy crisis has already had an effect on businesses, especially SMEs. Insolvencies across the manufacturing sector have soared by 63% since last year. While the new six-month scheme will help in the short term, prices are still increasing, which will no doubt have an impact on the bottom line for businesses.
What solutions can you implement?
Streamlining processes can help reduce energy usage, with 47% of businesses having already adjusted their practices, in the face of soaring energy costs. Whether you are part of that percentage and looking for more avenues to reduce costs, or just beginning to look at your business practices, we have some tips to share that might assist you.  
Reducing energy consumption in the manufacturing process
Review your lean manufacturing protocols to reduce waste
Evaluate where there might be areas to reduce your waste and eliminate anything that is not creating value for your customers. Look at high energy usage areas and sections where you might be able to reduce yield loss.  
Monitor energy consumption
You might already be keeping a close eye on your overall energy usage along with the price rise, but identifying causes of energy spikes and processes which require significant power usage can help you reduce your waste and optimise production.  
Reviewing your quality control is a vital part in reducing energy usage and other additional costs. Repairing machinery early can not only avoid excess power consumption but also save on time and staff cost. If your quality control is lacking, equipment can breakdown which naturally comes with a cost to repair but also, in turn, affects the whole production, draining your potential profit.  
Implementing maintenance schedules 
An essential part of a quality control system is implementing a regular maintenance schedule. This will keep you in the loop with the status of all equipment and eliminate any losses due to breakdown and unexpected replacements. This can identify any machines using more energy than usual and cut out heat waste. Having a system that provides regular updates gives you peace of mind throughout the entire lifecycle of production, not just during one-off checks.  
Review the layout of your factory to see if there are areas of flow that can be optimised. Are materials moving around the production process as efficiently as they can?  
Consider the space that you already use and how it could be enhanced. For instance, you could explore your vertical space if you have not already, adding overhead storage or creating a second-floor workspace.  
 This can help optimise your heating, saving energy on heating areas of your factory with low usage and avoiding external storage costs.
Set goals for lowering energy consumption 
Finally, one of the most important things you can do is set a goal to lower energy consumption, which your entire workforce is aware of and can actively contribute to. Devise an energy strategy and incentivise targets to drive engagement from your employees and ensure everyone is pulling in the same direction.  
Supporting you to achieve your energy goals
 Using Quality Management Software (QMS) is going to be invaluable in implementing or improving the areas mentioned above in response to the energy crisis. Ideagen's Q-Pulse QMS has features including:
Asset Management

to give you up-to-date information and notifications on your equipment quality.
Risk Management

to visualise, categorise and assess risks, in order to implement changes quickly.
Training Management

to schedule and record training, as well as CPD accredited courses around new energy efficient practices.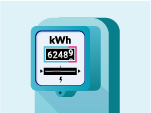 Discover Q-Pulse
Ideagen's Q-Pulse ensures your organisation is proactive in mitigating the energy crisis impact. See for yourself and speak to our expert team, today.
Find out more