The Association of Asia Pacific Airlines (AAPA) held their 66th Assembly of Presidents in Bangkok this November. Recent rises in passenger numbers has left a overriding feeling of optimism for Asia-Pacific, caveated by a realistic acknowledgement of the challenges that lay ahead for the region and the growth of the aviation industry generally.
During the first nine months of 2022, Asia-Pacific airlines saw a five-fold increase in the number of international passengers carried compared to the same period in 2021. However, Subhas Menon, director general of the AAPA tempered expectations, detailing the obstacles that still postpone the full recovery of the region: "The region's recovery still lags behind the rest of the world and is expected to reach only 75 percent of 2019 levels by year-end," Menon said.
Representatives from The International Air Transport Association (IATA) spoke at the Assembly of Presidents and urged the airlines to prepare for a surge in traffic. Conrad Clifford, IATA Deputy Director General, also spoke about the long road to recovery for Asia-Pacific and the important priorities along that journey. Namely, building on the momentum of digitization, stimulating sustainable aviation fuel (SAF) production, and addressing talent shortages - particularly the underrepresentation of women in technical and senior management positions.
The priorities for aviation market growth
Digitization
The Covid-19 pandemic has shown that digitization can be used effectively for airlines, passengers and governments. Though hands were forced somewhat with the changes Covid brought about, digital strategies were already being implemented and the benefits gained for forward-thinking organizations. Digitization of processes and the adoption of other technological innovations such as cloud computing, big data, and IIOT (industrial 'internet of things') will all undoubtedly create a smoother journey for passengers. What's more, improving on efficiency and cutting down on waste will also contribute to sustainability goals.

Sustainable aviation fuel
Another priority that AAPA and IATA have not forgotten about is their long-term commitment to sustainability goals, particularly with an emphasis on increasing the use of SAF. As Conrad Clifford pointed out in his address: "In 2021, only 125 million liters of SAF were available on the market. That was less than 0.05% of the total fuel used." There is now urgency for governments in Asia-Pacific and worldwide to invest in SAF production. The IATA target of net zero carbon emissions by 2050 looms, and efforts need to increase in order to meet that target.

Recruitment
The summer of 2022 saw chronic staffing shortages in the aviation industry. The pandemic saw a massive reduction in operations for aviation, which ultimately led to cutbacks on staff as airlines struggled to stay afloat. Now, as the demand is quickly growing, airlines are finding it difficult to replace the staff they've lost and this has resulted in disruption to flight schedules, capacity constraints, large queues, and other such issues.
It's not just the issue of finding the people who want to work in the industry, but providing them with the training needed as well as gaining the security clearance. For pilots, there's also building the flying time required, which differs by nation.
Conrad also spoke about the IATA's '25by2025' initiative, a voluntary program they've introduced among their members and industry partners. The initiative aims to improve female representation in senior leadership and technical roles either to at least 25% overall, or to increase by 25%. IATA have signed 140 organizations to the initiative, though this only includes 11 airlines. The numbers and percentages of women in aviation are increasing, but women are still underrepresented. Only 9% of FAA-certified pilots and 22% of non-pilot aviation personnel are women. Additionally, only 6% of airline CEOs are female.
The lack of diversity at all levels will affect an airline's ability to innovate and therefore impact on their sustainability targets, cost-saving measures, and other opportunities to improve their profits and brand.



Infrastructure
In addition to getting your staffing in place to deal with the surge in demand, improving infrastructure should be an urgency. As Clifford mentioned in his address: "The slower pace of recovery of the Asia-Pacific region has come with a silver lining. The delays and congestion in Europe and North America when traffic returned should be a stark reminder for airports and government agencies in this part of the world of the need to prepare for the traffic surge." IATA has previously warned that Asian aviation was already growing too fast for its infrastructure, so to avoid further disruption down the line, working on infrastructure now is essential.
This can be through improvements to the air traffic management systems or investing in developments to airports and ground facilities.
The cost of growth
One important thing to consider is the cost of growth. Investments in improving technology, improving infrastructure, and recruiting additional staff all comes at a cost that will likely be reflected in the price of travel for customers. With a looming recession it's important to consider how this could impact travel appetite, both for business and leisure.
Fostering innovation in aviation – Safety & Quality
Alongside industry growth and innovation the top priorities remain safety and quality. When you're short of staff, a safety and quality management system can fill those gaps, streamlining your audits and procedures and ensuring you're meeting regulatory requirements.
With Ideagen Q-Pulse, information is no longer siloed and separate, and everyone including ground operations and flight crew are able to submit reports remotely, thereby increasing the accuracy and amount of safety reports.
Q-Pulse is a vital tool in creating an all-encompassing culture of safety whilst also keeping costs down and facilitating your avenues for innovation:
Digitization – Q-Pulse acts as the central depository for all your data, allowing you to make data-driven decisions when it comes to improving safety and the customer experience. With cloud and mobile technology, auditing and reporting can be done far more quickly and issues addressed before they become costly.
Sustainability – Q-Pulse is a crucial tool in reducing waste in your processes. From keeping on top of your maintenance ensuring bigger repairs aren't required further down the line, to going completely paperless reducing your waste and increasing your efficiency.
Recruitment – The training management module allows you to continually develop your staff and support their career goals. Build bespoke training categories and store all training records easily and efficiently in a centralized library.
Infrastructure – In expanding and developing your infrastructure, controlling your risk is going to be key. With the risk module, you can build a categorized register of any type of risk you might encounter, assign responsibilities and stakeholders to encourage collaboration, and thoroughly assess risk by scheduling regular and automatically recurring assessments.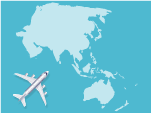 Find out how we can support you
Discover how Ideagen can support your organization through the growth of the aviation industry expected across the next few years.
Request a demo