Audit management software
With Ideagen Pentana Audit, our audit management software, internal audit departments can work faster, improve audit strategy, reduce costs and enhance productivity.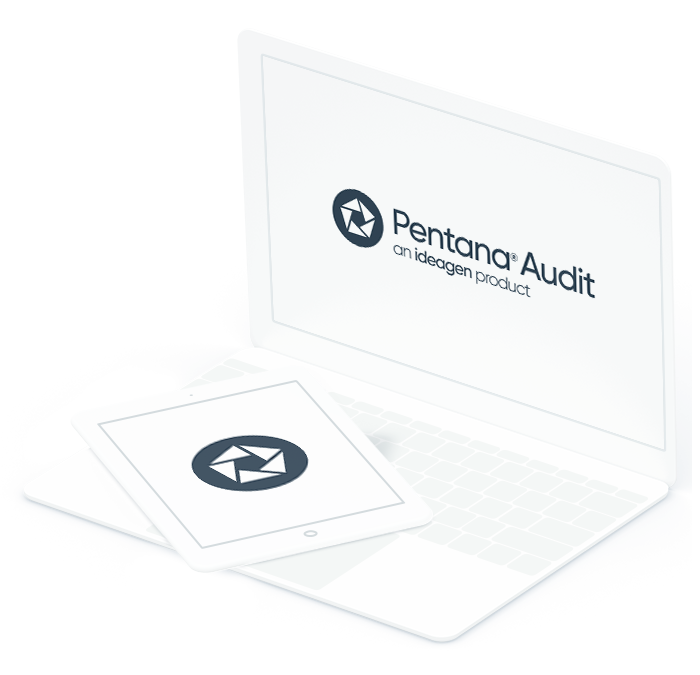 Explore a new world of powerful audit automation tools
Overview
What is Ideagen Pentana Audit?
Pentana Audit is our audit management software. It can help you to make your internal audits more efficient, transparent and risk-aligned. By automating workflows, internal auditors are empowered to focus on higher-value activities, not arduous admin tasks.
Request a demo
Benefits
Contribute to the resilience and success of your organisation
Our risk-driven audit management software automates tasks so that you can focus on the right risks at the right time, while aligning Internal Audit with your business' strategic objectives. Go beyond compliance, streamline your core processes and deliver true strategic value to your business.
Request a demo
Improve the quality of your internal audits
Remove admin headaches with a paperless system
Centralise operations and work together seamlessly
Track performance and identify areas for improvement
Prioritise audits based on risk
Make informed and intelligent decisions backed by data
Uncover opportunities for business-enhancing projects
Trusted by organisations around the globe
Loved by G2 reviewers
Ideagen Ideagen Pentana Audit has been recognised in G2's report as a 'Contender' within the Audit Management Space. This is earned after collecting 20+ reviews with an average 4.0 star rating.
See the full report
Built by auditors, for auditors
Features
Feature-rich auditing software
Ideagen Ideagen Pentana Audit's intuitive user interface helps to improve efficiency and productivity, wherever you are. Built by internal auditors with decades of industry experience, our software is highly flexible and can be customised to meet your specific, individual needs.
Request a demo
Risk and control management
Define and assess risks and controls through heat maps, risk exposure and control coverage
Impressive dashboards
Display scores and trends for risks and controls online, receive automatic email updates, and more
Quality analysis and reporting
Create detailed, real-time reports and communicate data with visual graphs or charts
Issue tracking and action management
Manage actions and incidents with automated tools for follow-up, deadlines and closure
Audit project management
Manage multiple audits and capture objectives, scope and more within workflows
Audit work paper management
Go paperless with your working papers in a single system of record
Audit evidence management
Fully integrate and display your goals, tests, samples and observations in one place
Audit planning, scoping and scheduling
Risk-assess the audit universe, gain total flexibility of provision, and identify priorities and issues
Audit universe
Centrally manage auditable entries and organisational structure. Configure the universe to your unique needs
Align your business with the IIA Audit Maturity Model and Ideagen Pentana Audit
Audit Maturity: Initial Stage
At the Initial stage of Audit Maturity, audit teams struggle with:
policies and methodologies that are not defined or in place
incompatible resources
skills and credentials with no facility for training
a high reliance on manual systems and spreadsheets
a lack of quality, with reporting and communication performed completely ad hoc.
Audit Maturity: Repeatable Stage
At the Repeatable stage of Audit Maturity, audit teams will have a moderate system in place with defined policies, training, reporting, communication and methodology. But they still lack the necessary documentation for these processes.
The information relied upon is not generated from within the system, and skills and credentials of the team meet the minimum satisfactory requirement.
Audit Maturity: Defined Stage
At the Defined stage of Audit Maturity, all policies, methodologies, communication and reporting processes are defined, in place and documented in a stable, central system.
The right skills and credentials are in place, with training requirements carried out efficiently.
With Ideagen Ideagen Pentana Audit's intuitive workflows, quality control measures and central repository for all relevant documentation, your audits can easily meet the requirements for the Defined stage.
Audit Maturity: Managed Stage
At the Managed stage of Audit Maturity, audit processes are highly effective, with automated reports, continuous monitoring, and clear communication.
Data integrity is high, and key metrics such as quality and timeliness are defined and monitored to ensure continuous improvement.
Pentana Audit uses powerful features to ensure processes are extremely effective, such as automatic report generation, detailed issue tracking and action management, and an adaptable library of objectives, risks, controls and tests to ensure you achieve the Managed stage comfortably.
Audit Maturity: Optimised Stage
At the Optimised stage of Audit Maturity, audit teams benefit from having:
continuous audit and monitoring processes
reliable data analytics able to demonstrate a high level of quality
a dynamic approach to emerging leading practices.
There is a focus on performance, where compliance issues are dealt with as a matter of course.
Ideagen Ideagen Pentana Audit is fully risk-based, meaning that the system is always optimised for continual monitoring and improvement. Dynamic performance dashboards and reports can be created for real-time analysis of all key Audit metrics, bringing your organisation in line with the Optimised stage.