Your Guide to the Individual Accountability and Conduct Guidelines
Compliance with the MAS's new Individual Accountability and Conduct Guidelines (IACG) doesn't have to be difficult. We've put together a range of resources to help you meet IACG and exceed regulatory expectations.  
IACG summarised
What's IACG all about, anyway? Our infographic summarises the purpose of IACG, as well as which financial institutions will be affected, so that you can get up to speed with the basics of the regulation.  
Download now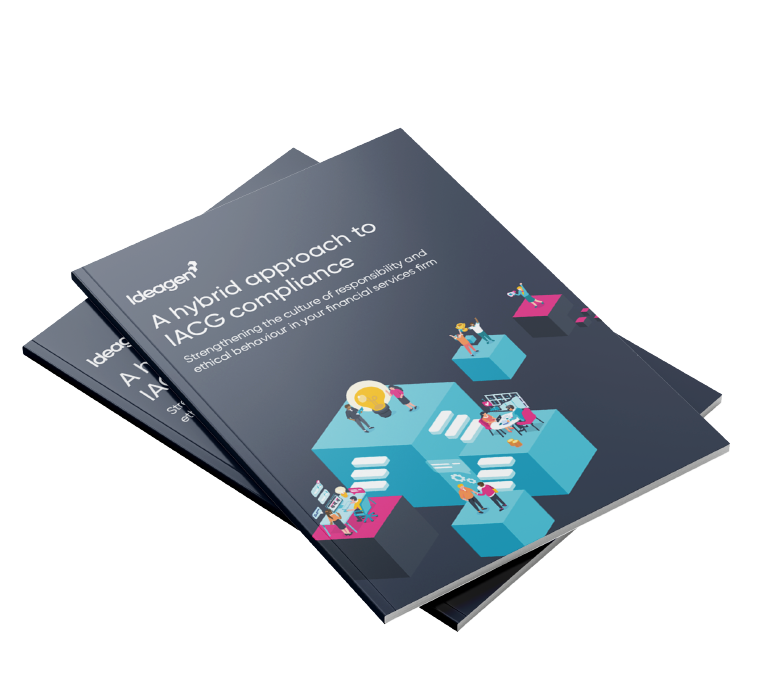 Take a hybrid approach to IACG compliance
Our e-book outlines the key things to remember about the new IACG regulation, as well as the importance of digital transformation. Learn how a hybrid approach, which utilises both technology and close collaboration across teams, can help you achieve compliance.
Download e-book
Find out the consequences of non-compliance
Our infographic reveals: 
How FI malpractice led to IACG 
High profile scandals that shook the industry 
Forms of enforcement issued by MAS 
Take a look
How can tech future-proof your compliance?
In our white paper, you will learn how to create and maintain a strong culture of ethics and accountability. We also dive into the benefits of RegTech and explain how the right digital solution can support your compliance for the long-term.  
Download white paper
Discover our IACG software solution
Pentana Compliance, our IACG solution, is designed to:
Help FIs to meet and exceed IACG requirements
Evidence accountability to the MAS
Protect FIs from the risks of non-compliance
Learn more
There has been a Content Block failure. Content Block name: additionalContentCard - Page Id: 8778 - Page Url: /resources/regulatory/iacg<br /><br />Exception message: Object reference not set to an instance of an object.<br /><br />Stack trace: at ASP._Page_Views_Partials_2020ContentBlocks__additionalContentCard_cshtml.Execute() in d:\home\site\wwwroot\Views\Partials\2020ContentBlocks\_AdditionalContentCard.cshtml:line 49 at System.Web.WebPages.WebPageBase.ExecutePageHierarchy() at System.Web.Mvc.WebViewPage.ExecutePageHierarchy() at System.Web.WebPages.WebPageBase.ExecutePageHierarchy(WebPageContext pageContext, TextWriter writer, WebPageRenderingBase startPage) at System.Web.Mvc.RazorView.RenderView(ViewContext viewContext, TextWriter writer, Object instance) at System.Web.Mvc.BuildManagerCompiledView.Render(ViewContext viewContext, TextWriter writer) at Umbraco.Core.Profiling.ProfilingView.Render(ViewContext viewContext, TextWriter writer) at System.Web.Mvc.HtmlHelper.RenderPartialInternal(String partialViewName, ViewDataDictionary viewData, Object model, TextWriter writer, ViewEngineCollection viewEngineCollection) at System.Web.Mvc.Html.PartialExtensions.Partial(HtmlHelper htmlHelper, String partialViewName, Object model, ViewDataDictionary viewData) at System.Web.Mvc.Html.PartialExtensions.Partial(HtmlHelper htmlHelper, String partialViewName, Object model) at ASP._Page_Views_Partials_2020ContentBlocks__ContentBlocks_cshtml.Execute() in d:\home\site\wwwroot\Views\Partials\2020ContentBlocks\_ContentBlocks.cshtml:line 15<br /><br />