02 July 2018
E-learning: a game changing solution that can transform your business
For most people, the words "corporate learning" are enough to start a tidal wave of stifled yawns and drooping eyelids spreading throughout the workplace. Many readers are bound to have experienced training days spent in stuffy classrooms, heaps of jumbled questionnaires and user manuals littering the place, while a lecturer drones on and on about… what was it? Thankfully, the digital revolution has provided organisations with fantastic opportunities to transform the way learning in the workplace is accessed, consumed, evaluated and shared.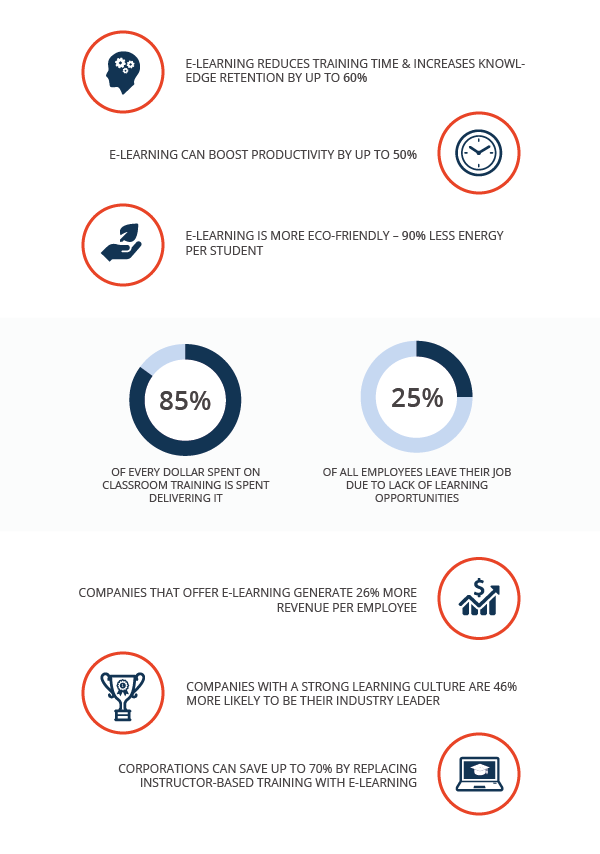 E-learning is now the vastly preferred option for the majority of organisations and their employees – and for good reason. The benefits of providing an e-learning solution to your workforce are proven to deliver some truly outstanding results as well as reflect the way employees really want to learn at work.
Research has shown that a huge majority of employees find online learning to have a positive impact on their job performance. A report by Towards Maturity, The Consumer Learner at Work , demonstrates an overwhelming preference for personalised, technology-based learning that is relevant and accessible at the point of need. 66% of those surveyed consider self-paced e-learning courses as essential to their development – this is especially true in widely dispersed workforces that need access to learning when it suits them. What this indicates is that workers are becoming more invested in their own learning, and want to be able to make a valuable contribution to their own development rather than being passive participants. E-learning therefore presents a fantastic opportunity for organisations to keep their employees happy and motivated, delivering positive outcomes for the entire company.
As well as being the method of choice for employees, e-learning can also produce far more tangible results in terms of time and cost savings. According to a study conducted by the Research Institute of America, e-learning reduces training time and increases knowledge retention by up to 60%. The study found the accessibility of e-learning to be key – online courses can take place anytime, anywhere and at the convenience of the learner, removing the need for scheduling training rooms, hiring instructors or any travel and accommodation costs. Similarly, a report released by IBM demonstrates how e-learning can boost productivity by up to 50%. It found that for every $1 a company spends on e-learning, they can gain $30 worth of productivity. Another IBM report reveals the incredible value of making productivity improvements, showing that an e-learning solution producing an average productivity improvement of just three minutes per day can save a company at least $240,000 per year. With results like that, it really is no wonder that over 40% of Fortune 500 companies use e-learning to train their employees.
Having the opportunity to revisit the relevant material as needed is vital to making sure that knowledge is absorbed quickly and effectively. Being able to dictate the pace of learning leads to a 60% faster learning curve than typical instructor-led training, as stated in another study titled Corporate eLearning: Exploring a New Frontier. For organisations that have new members of staff constantly coming and going, all at different stages in their development, a flexible and easily deployable training solution is incredibly important. Traditional training methods simply aren't appropriate in these situations as the pace of learning is dictated by those less further on in their development. E-learning provides a practical solution to this problem, and makes sure that each individual receives the training materials right for them.
Ideagen Academy is the new enterprise-scale e-learning solution that provides interactive training in the use of Ideagen products. By facilitating your organisation's investment in Ideagen software with Academy's comprehensive training programme, you will very quickly come to realise the wealth of benefits described above, as well as a number of valuable features, such as:
Simulations of the software and real life scenarios for your employees to try out
Ability to upload your own training videos and courses
Reporting features to measure effectiveness of training
A place to store and view training records, where progress can be tracked in real time
Fully customisable learning management system that can be tailored to your business
Create certificates with expiry dates to make sure training is refreshed regularly 
Find out how Ideagen Academy can maximise ROI on your software investment