David Hornsby - Executive Chairman
David Hornsby was appointed Executive Chairman in 2018, having previously served as Chief Executive since 2009. As Chief Executive, David led Ideagen through a period of rapid growth and now is responsible for the company's medium and long-term growth plans. His particular areas of focus include Group strategy, Mergers, and Acquisitions and Investor Relations.
David has over 25 years' experience in the technology sector and prior to Ideagen, held a number of senior management positions in both UK and US-based software companies including Smart Workforce Management Plc, Parametric Technology Corporation, and Profund Systems Limited.
Ben Dorks - Chief Executive Officer
Ben Dorks was appointed Chief Executive in 2018 having previously served as Chief Customer Officer for Ideagen. In this role, Ben was responsible for the total relationship with Ideagen's customers through the management of global sales, marketing, product and professional services.
As Chief Executive, Ben is responsible for the overall performance of the business with specific focus on operational excellence, customer acquisition and retention and product development. Ben joined Ideagen in 2013 via the acquisition of Plumtree Group where he served as Sales and Marketing Director and previously worked as a Sales Manager at TSF and Applied Group.
Barnaby Kent - Chief Operating Officer
Barnaby joined Ideagen via the acquisition of Plumtree Group in 2012, where he was the CEO. Plumtree specialised in software for the Content and Clinical markets. He has over 14 years' experience within the Technology sector, prior to that working at Corus Group plc, now Tata Steel. Barnaby has a BSc (Hons) from the University of Southampton and a MBA from Edinburgh Business School.
Graeme Spenceley - Chief Financial Officer and Company Secretary
Graeme has been a chartered accountant for over 25 years. He spent 18 years with KPMG, initially specialising in audit where he managed a number of public company clients and later as an associate director in Transaction Services which specialised in the provision of due diligence and reporting accountant services to corporates, private equity companies and banks.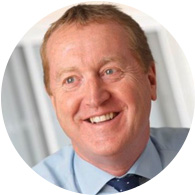 Richard Longdon - Non-Executive Director
Richard Longdon is a Non-executive Director of Ideagen having joined the company on November 1st, 2019. He has enjoyed a highly successful career in the technology sector, having spent 33 years with AVEVA Group where he was Chief Executive Officer for 17 years. During his time with AVEVA, the company successfully grew from a £7m management-buyout to a £42 million public listing and was valued at £1.4bn when Richard retired from the board.
As well as AVEVA, Richard has also previously held positions of senior independent non-executive director at listed Fidessa Plc and Alfa Financial plc. Richard has also worked successfully with Private Equity backed businesses serving as a non-executive director at Prometheus Inc and non-executive Chairman at Process Systems Enterprise Ltd.
As part of his role at Ideagen, Richard will chair the nomination committee which was formed following his appointment.
Alan Carroll - Independent Non-Executive Director
Alan has 25 years' experience in the information systems industry during which he has worked in a senior capacity in the development of the Ministry of Defence's Information System Strategy. He has also been a senior sales manager and advisor to a number of major companies. He is currently managing director of Ultris Limited and Ultris Information Services Limited which are focused on the UK confidential government market. Alan has an MSc in Design of Information Systems from Cranfield Institute of Technology. Alan was appointed to the Board in June 2012.
Tony Rodriguez - Non-Executive Director
Tony is an experienced technology entrepreneur and software developer. After an early career in a number of blue-chip technology companies, he founded Avellino Technologies Ltd in 1997, and personally led the development of its data profiling software product, now known as TS Discovery, before its acquisition in 2004 by Harte Hanks Trillium. Subsequently, he founded X88 Software, since acquired by Experian in 2014, where he led, as CEO and CTO, the development of its data management product (now known as Experian Pandora), which was recognised as a visionary by Gartner.