17 July 2019
Top 3 Reasons Why Quality Should be at The Forefront of Any Construction Project
In February 2017, Professor John Cole published a report into the defects that led to the closure of 17 schools in Edinburgh and, along with other industry bodies, the Chartered Institute of Building (CIOB) attended a roundtable to discuss the findings and plan next steps. Just a few months later in June 2017, the fire at Grenfell Tower in London claimed the lives of 71 people and the CIOB launched a Commission of Past Presidents to investigate the issue of quality in construction.
The CIOB worked with their members, and the wider industry, to identify what the main issues regarding quality in construction were. To do this, they held an initial workshop at the CIOB Members' Forum in June 2017, alongside the Royal Institute of British Architects (RIBA), which highlighted initial issues. They then used desk research to expand on these issues and identified clear push and pull factors impacting quality. Push factors included regulations, standards & codes, and certification. Pull factors included clients & procurement, company policies, and workers' job satisfaction.
They gathered views and data from their members, the wider construction sector, government, and other interested stakeholders on construction quality issues.
These are the findings from the CIOB's investigation into the current Quality Control and Management processes within Construction in the UK;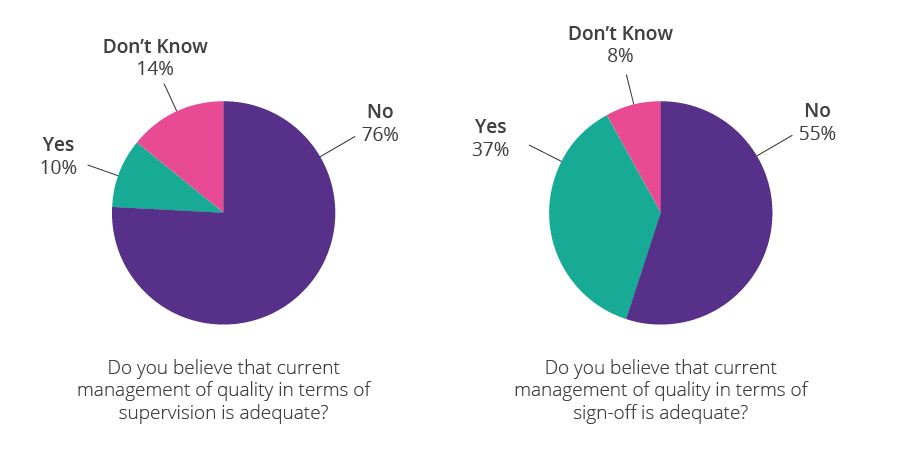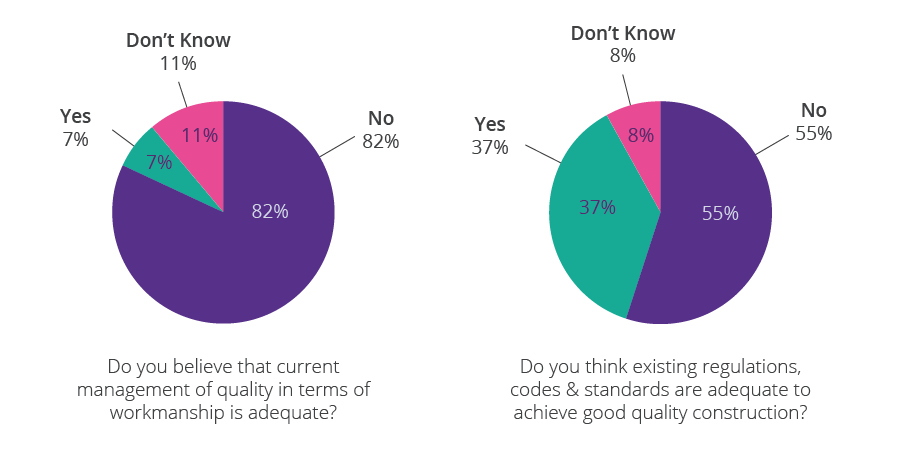 This shows that within the industry there is a strong feeling of concern from all stakeholders that the quality of work produced is inadequate.

With Health, Safety and Environmental regulations taking centre stage for construction organisations as a result of the drive and importance of keeping people safe at work, Quality has been pushed to the side of the priorities. With the disasters that we have seen over the last few years, it is clear now more than ever that there is a need for quality to be back at the forefront of any construction project.
The significances of poor-quality construction work are much more than just the cost of rectifying the work. It has far reaching consequences that many fail to see or recognise - consequences that could destroy organisations' reputation and incur crippling if not fatal financial implications.

Poor-Quality Work Damages Reputation
Not only can poor-quality work on one project quickly destroy client relationships but News of poor-quality work can swiftly spread to other potential customers. This can quickly become a newsworthy item with social media available to rapidly spread pictures of poor-quality.

Poor-Quality Work Costs Money
Rectifying poor-quality work costs enormous amounts of money to repair and rectify. It is estimated that figures of between 5% and 15% of project costs are caused by poor-quality work.
Not only is there the cost of repairing the defective work, but there are often the additional costs resulting from the delay to the project. Rectifying completed work often impacts adjacent items meaning that there's usually more to fix than just the item that wasn't acceptable in the first place.

Poor-Quality Work Causes Accidents
There have been many cases of completed buildings and structures collapsing because the construction was done poorly, examples of this are the schools in Edinburgh and Grenfell Tower failure. Reinforcing steel was omitted, the wrong strength concrete was utilised or inadequate foundations were constructed. These collapses can often be spectacular resulting in many deaths and feature prominently in the media.
But even when poor-quality work is discovered during construction the rectification work can involve hazardous demolitions. Sometimes reaching the defective item is difficult, especially when it is detected after access has been removed. Rectification work is often done in haste and could involve unsafe practices leading to potential health & safety breaches.

Whilst cultural and mindset shifts take time, there are available tools that can help and assist with the improvement of Quality in the construction process. From controlling of documentation to make sure all contractors and sub-contractors are up to date with revisions of plans, having consistent and accurate auditing of inspections to timely and precise reporting of all progresses throughout the project.
Ideagen's Q-Pulse is an electronic QHSE management software system that provides total control, operational excellence and integrity. With over one million users, Q-Pulse is the proven quality, health, safety and environmental risk management solution for thousands of organisations across the world in a range of industrial sectors including manufacturing, construction, utilities, energy and engineering.


If you would like to learn more about how Q-Pulse can assist with your organisation's Quality Management needs, visit our product page here or speak with Fraser McInnes at fraser.mcinnes@ideagen.com to arrange a consultation or demo.